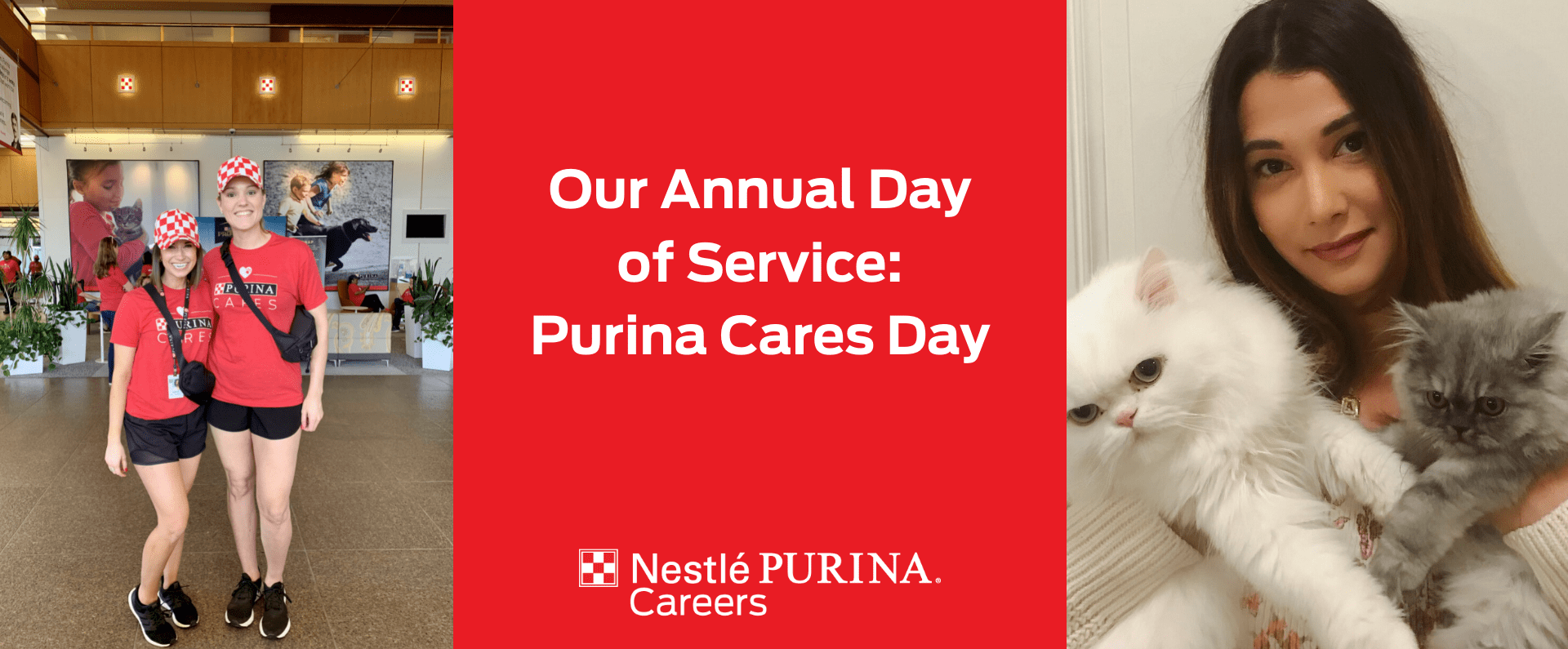 Perks @ Work
Our Annual Day of Service: Purina Cares Day
Our annual day of service, Purina Cares Day, dates to our early days when William H. Danforth invited all associates to participate in "Checkerboard Shirt Day" in 1946. Since its first inception, Purina Cares Day has gone through many transformations, but one aspect has remained stable, this day serves as a day for all to come together, exercise team building, acknowledge accomplishments, and most importantly—give back to our community. 
Explain a little about your role at Nestlé Purina and what you do.
Kayla: I work in the Employee Communications group within Corporate Public Relations  to connect associates to all things Purina through meaningful, impactful communications, such as Workplace and Nine Square News. I also help enhance Purina's rich culture and instill pride in our associates by leading signature company events such as Purina Cares Day, Family Day, and The Holiday Gathering.
Morgan: My name is Morgan, and I work remotely from Williamsburg, Virginia. I'm a Sourcer on the Product Supply team, so I spend my workdays scouring different platforms (LinkedIn, Indeed, Handshake, Facebook) for great candidates to fill our factory roles. I primarily work on roles for our Williamsburg Township, OH factory and  Eden, NC.
What service activity did you participate in on Purina Cares Day?
Kayla: I co-lead the entire event alongside my colleague in Community Affairs. We began planning six months ahead of the event, starting with selecting and coordinating the service activities our associates will participate in with Purina's nonprofit partners. We also help coordinate activities for our factory, sales, and remote associates to participate in. I oversee everything from the event budget and registration, to the t-shirts, food, games, and entertainment provided throughout the day, to every little detail in between. Most of my volunteer hours are spent behind the scenes, with a focus on making Purina Cares Day successful and meaningful to our associates.
Morgan: For Purina Cares Day, I visited a local animal shelter, Heritage Humane Society. They are the only shelter in the area filled with dogs, cats, kittens, bunnies, rats, and guinea pigs. I happily volunteered to socialize with the kittens. Some of them are very shy, so just sitting with them and gaining their trust in hopes that the more social they get, the more likely they are to be adopted. The shelter has one area where the cats are in individual cages, so I got some of them out for cuddles, treats, and learned their stories from one of the shelter employees. It was heartbreaking to hear what some of them had been through, but I felt peace knowing they were getting the love and care they needed in this no-kill shelter, and a few that I fell in love with have already been adopted.
What does Purina Cares Day mean to you?
Kayla: Purina's giving spirit has long been ingrained in our culture , dating back to our company's humble beginnings nearly 130 years ago when our founder William H. Danforth laid the foundation for this important work. It makes me so proud to see that same spirit continue to shine bright today, especially on Purina Cares Day.
Morgan: Purina Cares Day means getting out and doing good with the community. The employees at the shelter spend their days, nights, and weekends taking care of these animals, and I'm sure that can be overwhelming. There were other volunteers there as well; some cleaning the cages, cuddling kittens, and walking dogs. It was great to see volunteers and employees forming a relationship over their mutual love for animals. It's wonderful to know that the company I was representing encouraged us to get out and spend the day giving a little extra time and effort to our community, and that the small differences we are making together can have a big impact.
What do you look forward to most for future Purina Cares Days?
Kayla: I look forward to seeing Purina Cares Day grow and make an even bigger impact. Every individual associate's effort through acts of service and volunteerism, whether big or small, all add up to making a tremendous impact and lasting impression on the pets and people in our community. The work we accomplish together as one team is simply exceptional.
Morgan: I look forward to what other volunteering opportunities are available in my community. I am a certified "cat lunch buddy" at the shelter (it's only a matter of time before one comes home with me…or 4), so next year I may find something new that I'll continue to do in my free time.
If joining an organization that strives to give back to its community Is important to you, we encourage you to visit our website and view our job opportunities.