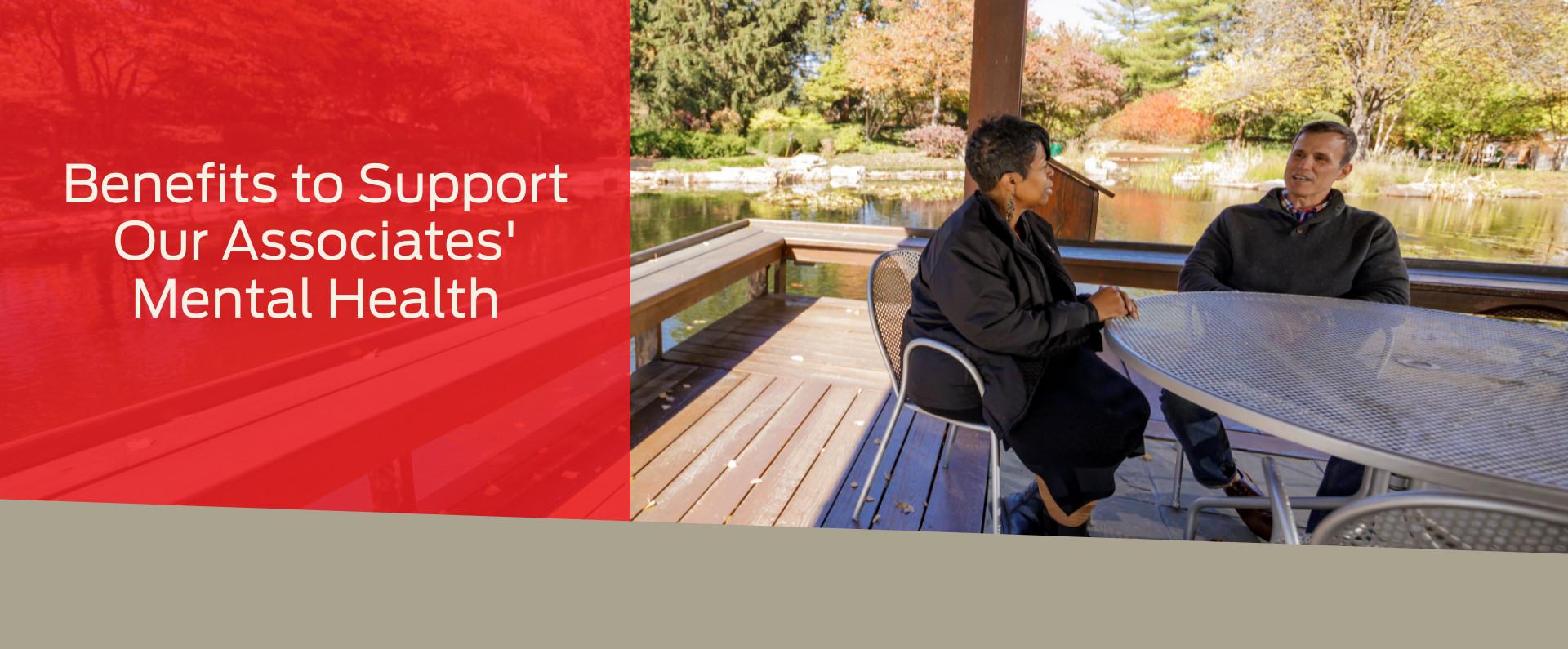 Perks @ Work
Benefits to Support Our Associates' Mental Health
Creating a work environment that brings out the best in our people is what drives our business to keep innovating, and our people to continue to develop themselves personally and professionally. We can't achieve this without taking a wholistic approach to supporting our associates. That's why we offer comprehensive benefits designed to support your physical, emotional, and mental health. We believe that your personal growth and professional development work hand-in-hand to guide you through your career journey. So, we take it upon ourselves to deliver our associates inclusive, mental health tools and resources to support their goals, wellbeing, and the people that matter to them. Discover our mental health benefits below.
Employee Assistance Programs
From checking off daily tasks to working on more complex issues, our Employee Assistance Program offers a variety of resources, tools, and services to you and your household members.
Counseling and Coaching
Confidential Therapy – Get up to six, free therapy sessions per year for you and every member of your household (age 6+), with an average wait of only two days to get a scheduled   appointment.


On-Site Counselor – Associates located at our St. Louis headquarters are encouraged to take advantage of our on-site counselor to support any of their mental health related needs—from scheduled sessions to address life's everyday stressors to grief counseling and beyond.   


Care Navigators – Get dedicated support from licensed professionals to guide your mental health journey.
Pets in the Workplace—Everyday!
Pets are known to decrease stress and symptoms of anxiety and depression. Our pet-friendly headquarters in St. Louis provides our associates the stress-reducing benefit of bringing their pets to work along with them. You'll also enjoy human and pet-friendly dog parks and walking paths to unwind and relax.
Online Programs
Personalized Online Assessment – Take a short online assessment to get a personalized care plan based on your current needs and long-term goals. Measure your progress over time to see how you're improving.


Wellbeing Exercises – Get on-demand access to a digital library of self-guided exercises designed to improve your mental wellbeing.


Moments On-Demand – Access on-demand mental wellbeing exercises called Moments. Moments are designed to give you immediate relief and build skills to improve your long-term mental wellness and resilience. You can use Moments for help with stress, anxiety, sleep, substance use, relationships, everyday challenges, and more.
Diverse Providers
Get choices in a provider network made to be as diverse as the people it supports. Find a therapist across specialty, gender, race, LGBTQ+, and language.
Alcohol & Drug Support
Access high-quality alcohol and drug use support programs to help you or your family members get the right care and treatment.
Training Our Leaders to Support Associates' Mental Health
Our people leaders are provided the opportunity to participate in mental health training to help them better support and understand their teams, provide mental health resources, and respond in the case of a mental health crisis.
Medication Management
Meet with prescribers who can manage your mental health medications, as needed.
Military Support
The unique challenges veteran and servicemember associates face can often require unique support. Our mental health resources are readily available to military and veteran associates to see them through these challenges. Learn more about our diverse military benefits.
Work-life Services
Talk to experts and find resources for legal assistance, financial services, child and elder care, personal travel, and more.
We know that great work can't happen without supporting our teams in the workplace and beyond. By providing leaders and associates at every level of our company the tools and resources they need to address, treat, and improve their mental health, we continue to build an inclusive, growth-driven work environment.
Interested in building your career with us? Join our talent network to be alerted to the most relevant job opportunities matching your skill set.