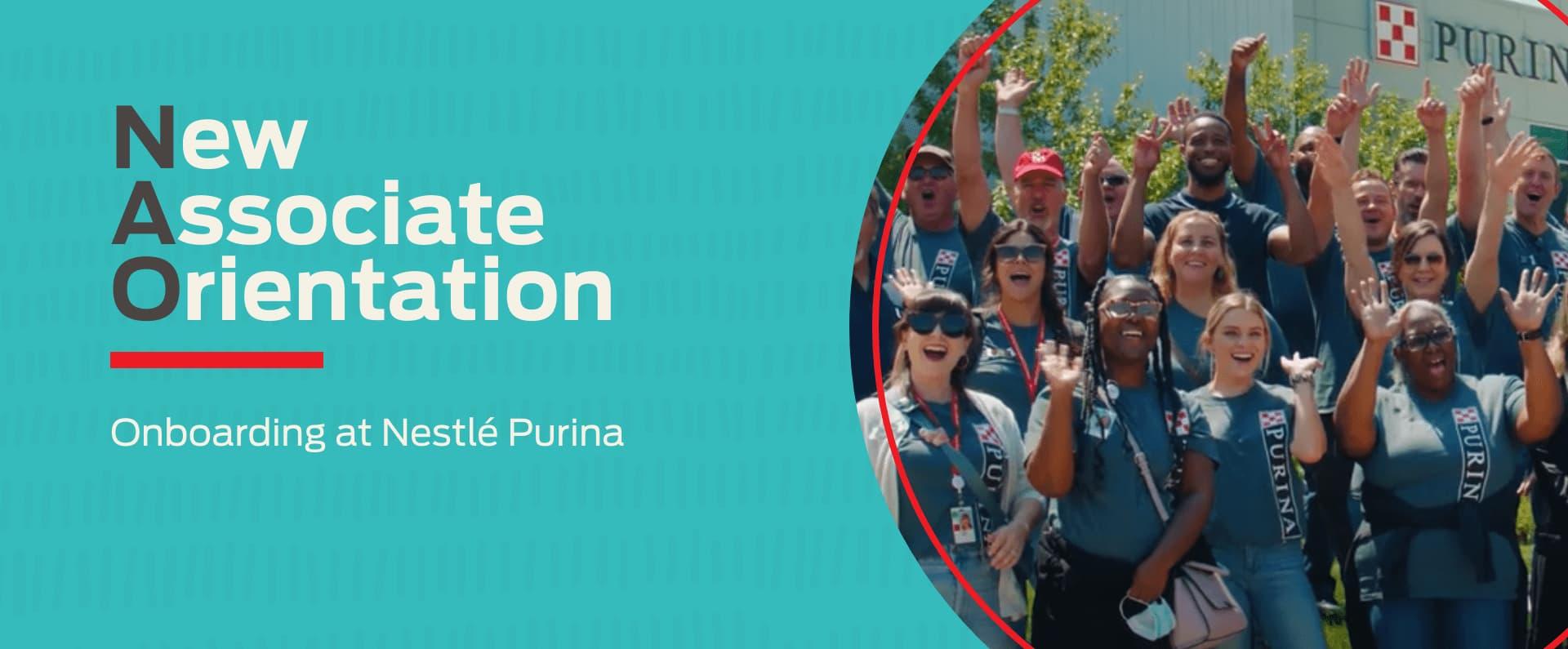 Perks @ Work
The New Associate Orientation (NAO) Experience at Nestlé Purina
Joining a new organization, though exciting, can be a challenging and an overwhelming transition in your career. When you start a new role, you may feel pressure to try and balance the needs to learn job functions, ways of working, and organizational drivers while maintaining your personal goals and responsibilities. Additionally, you're trying to get to know your new team members and understand your contribution in a collaborative space. You don't know what you don't know, and the road ahead can seem long and winding.
Picture this: You've accepted a role at Nestlé Purina and not long after, you're enrolled in New Associate Orientation. Before you know it, you're a part of something larger than your job functions, your team, and even the company itself. New Associate Orientation (NAO) is a 3-day, interactive onboarding program held at our St. Louis headquarters that seeks to provide new associates with an overview of our business and culture. The program covers topics ranging from supply chain and procurement to emerging technologies and research. This program is unique because not only does it provide a high-level narrative of some of the different business functions that make up our company, but it provides associates the opportunity to experience many of these functions firsthand:
Get a look 'behind the bowl' with a tour of our on-campus pilot plant and packaging lab whose processes allow us to test new product innovations before they see the inside of one of our factory locations across the United States.
Visit the Purina Institute, where you'll explore cutting-edge pet nutrition research in a stimulating, accessible environment. You'll discover how our research empowers veterinary professionals to keep pet nutrition at the forefront in the effort to further improve and extend the healthy lives of pets.
Explore our Retail Innovation Center (RIC) , a world class facility where we bring the pet owner's experience to life, showcase proprietary insights, emerging retail technology, and partner with retailers to co-create new category growth opportunities. Experience the consumer journey with our products through interactive exhibits and virtual reality.
Finally, you'll travel 45 minutes west of our downtown, St. Louis headquarters to visit Purina Farms. Comprised of our state-of-the-art Purina Event Center and pet-friendly, family-friendly Visitor Center, you'll catch a performance by the Purina Incredible Dog Team to get a taste of all the action.
Throughout all of these experiences, you'll have the opportunity to network and make meaningful connections with fellow, new associates from all across the business.
To better understand our business and your role in it, NAO seeks to equip you with the tools and resources to support your career growth. Whether it be through goal setting, networking, or career development resources, we're passionate about helping you unleash your potential. Abby, an NAO Presenter, said, "I went through NAO as a new hire over seven years ago, and I remember it actually piquing my interest in what ended up being my career field." Hear more from our associates and discover what the program is all about by watching the video below.
NAO is designed to answer the important questions like, "Who Are We" and "What Do We Believe." It gives our associates the space to build connections across our business and understand how their contributions impact organizational initiatives, our communities, and the lives of pets and pet owners. New Associate Orientation is connection, enlightenment, and so much more.