Our People
Our Millennial Workforce at Nestlé Purina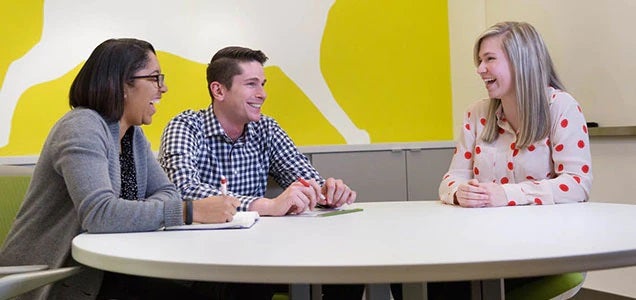 Millennials (or roughly those born between 1980 and 2000) are now the largest generation in the workforce (Bureau of Labor Statistics). At Purina, a company where over a quarter of associates are on the verge of retirement, understanding this key demographic is critical. What makes them tick? What attracts them to a position? And what does Purina, a pet care manufacturing company at its core, have to offer? 
Much of the research that's been done on the millennial worker suggests they work not only to take care of themselves (and their families), but to find personal fulfillment. On the quest to self-actualization, they seek flexibility, technological advancements and the ability to develop their skills and interests. 
We've believed in the importance of those elements for over 100 years. Our founder William H. Danforth stressed the significance of developing the whole person, in and out of work. Well-developed associates, he reasoned, could be more innovative, more collaborative, and perform at higher levels than those who were less-developed. 
Our Management Development Program and Internship opportunities were designed in this spirit. With an over 30-year history, this program trains and develops recent college graduates for leadership in our factories. The best way to prepare for manufacturing leadership? Experience doing all major factory functions, something we accomplish through a six-month rotational program at the on-set. Our Internships challenge students with real-world problems that are important to the business, not grabbing the best cup of coffee. And, recently launched, Nestlé's Project Opportunity combines these efforts with apprenticeship programs throughout the nation to reach individuals of all ages. 
Once a member of our team, associates nationwide take part in a three-day New Associate Orientation, designed to be an immersive experience for all things Nestlé Purina. Additionally, they can take advantage of over 2,800 professional development and technical e-learning courses available on our Learning Management System. We've also developed a Rotational Development Program for three of our corporate teams: Brand Marketing, Market Development Organization, and Sales. Individuals will spend one year in each of these areas to emerge with a well-rounded experience in this part of the business. Finally, in recognition that we don't always have a full day to commit to training, the Organization Development Team has launched "bite-sized" learning options to offer quick, focused information. 
Perhaps more than any of these facets, Millennials seek work that matters — roles that make an impact. Some believe organizations operate mainly in self-interest, but we do things differently. From donating 6 million pounds of pet food, treats and litter to shelters and non-profit organizations each year, to volunteer opportunities in our community (both here in St. Louis and our factory communities), our passion for pets and the people who love them extends well beyond the office and factory doors. 
Ultimately, the changing workforce requires careful planning and consideration. This is the generation that saw parents lose jobs in 2008, and, in large numbers, graduated college and struggled with their own job search. They crave stability as much as they crave flexibility. Fortunately, this new generation can find both in a happy home with us. And we couldn't be happier to have them.