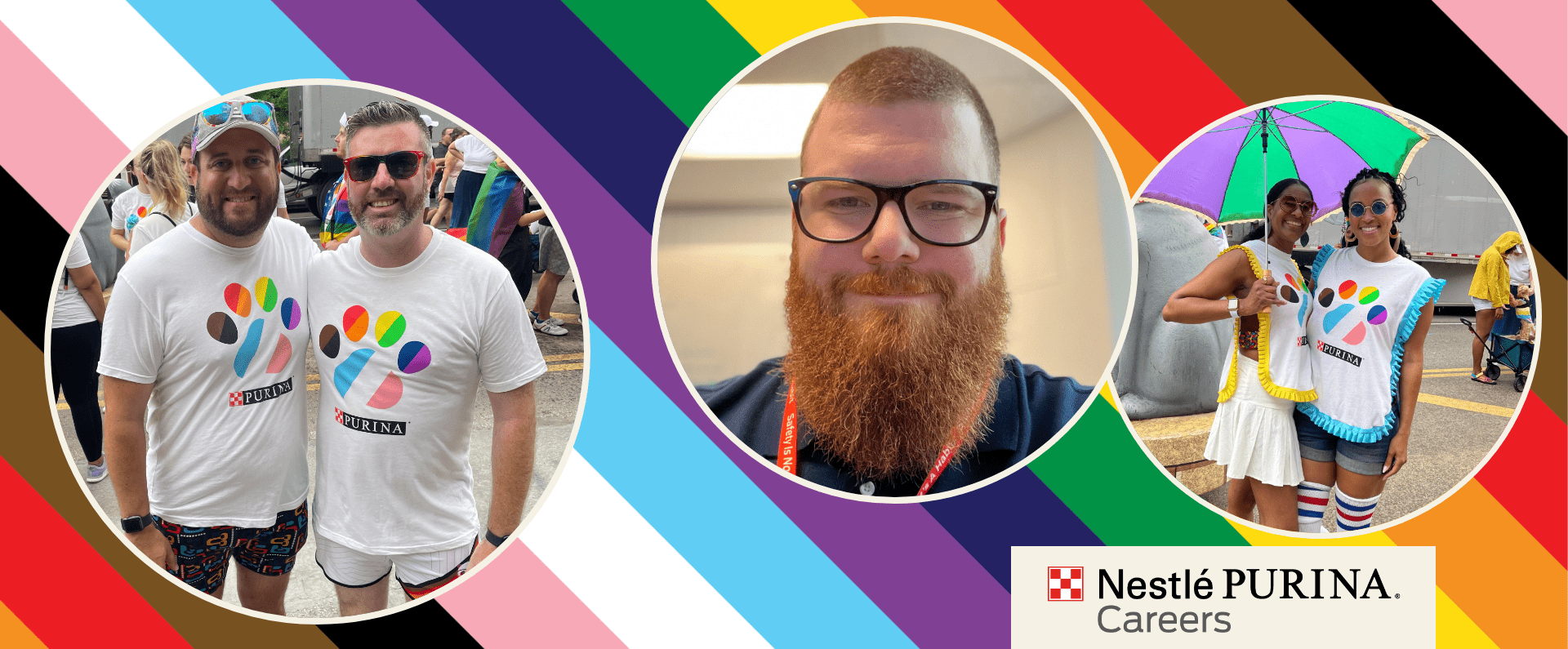 Our People
LGBTQ+ Ambassadors: Passionate About Inclusion | Nestlé Purina Careers
Fostering a diverse, equitable & inclusive work environment is not just a mission statement at Nestlé Purina, it's a passion. Our LGBTQ+ Ambassadors work diligently to ensure we actively support and celebrate the LGBTQ+ community, in and outside of our organization. Continue reading to learn about our ambassadors' experiences, insights, and the remarkable initiatives that make Nestlé Purina a recipient of the Human Rights Campaign 'Best Place to Work' for LGBTQ+ Equality.
For many of our ambassadors, their involvement began with volunteering for events such as Connect. Challenge. Change., where roughly five members of the LGBTQ+ community would sit on a panel and share their unique perspectives as an LGBTQ+ individual. Experiences such as these ignited their passion for creating positive change within our company. As they connected with like-minded individuals and participated in Pride events, they were inspired to take on more active roles as ambassadors.
Being an ally goes beyond verbal support; it requires action. Casey, Manager for IT User Support, encourages others to, "Keep an allyship mindset in all you do because the best way to be an ally is to show others what allyship looks like. Be the example!" Allyship involves self-reflection, identifying biases, and continuously working on personal growth. Our ambassadors strive to lead by example and show others what allyship truly means. They, along with several other associates, actively participate in events, share their stories, and normalize LGBTQ+ identities through their daily interactions. By embracing diversity, we can all contribute to a more inclusive environment for everyone.
For Casey, one particularly cherished memory was his participation in a panel discussion on allyship with the Purina LGBTQ+ Committee. "As newly hired associates, we had the opportunity to engage with our colleagues, share our perspectives, and demonstrate allyship. It was an empowering experience that allowed us to make meaningful contributions to the conversation."
Matt, Co-Pilot Finance Director and LGBTQ+ Ambassador, recalls the first time that he really opened up and allowed himself to be vulnerable in the workplace during the Connect. Challenge. Change. event. He "...was so grateful to Purina to allow [him] to be a part of that type of dialogue. As [he has] continued to reflect and talk to other LGBTQ+ members of the community at work, and outside of work, [he] realized what a special event this was." He further explained the impact this event had on him by stating, "This is the point when I fully realized the open and welcoming environment that I worked in and I couldn't have felt more free."
Our commitment and support for LGBTQ+ individuals are demonstrated through various initiatives, many of which are engineered by the LGBTQ+ Workplace Ambassadors like Casey and Matt. We display signage and provide informational material during LGBTQ+ history observances, sponsor community events, and actively participate in local parades and events in St. Louis, as well as in cities near our factory locations throughout the country. Some of our factories have also hosted Pride Month events where associates could win prizes, including Pride shirts. We believe every company has an opportunity to support the LGBTQ+ community, and we'll continue to make this a priority year after year to continually foster a sense of belonging and celebration among associates.
Associates, Casey and Matt, went on to share how they feel valued as DE&I Ambassadors. "We have the freedom to share our thoughts and ideas without judgment, knowing that our input is genuinely appreciated," says Casey. The open and inclusive spaces we're able to provide enable ambassadors and associates to engage in meaningful discussions, collaborate with fellow ambassadors and associates, and contribute to positive change. We also encourage all associates to bring their authentic and best self to work—something that Matt feels has helped him bring a lot of value to our organization. It is imperative that we create a safe space and people realize that they are accepted in our Purina Family.
We strive to be an example of an LGBTQ+ friendly workplace, consistently demonstrating our commitment and passion for inclusivity, acceptance, and support.   The efforts made by our ambassadors and other associates, from participating in Pride events to supporting community programs, cultivates an environment where all associates can thrive authentically. Fostering a welcoming and inclusive culture is a continuous goal of ours, and we look forward to progressing our journey of creating positive change.
Stay connected with us on all things Purina, from culture and diversity, equity & inclusion to company updates, by following us on LinkedIn, Facebook, and Instagram.
Can you see yourself at Purina? Join our talent network to be alerted of the most relevant job opportunities matching your skill set.