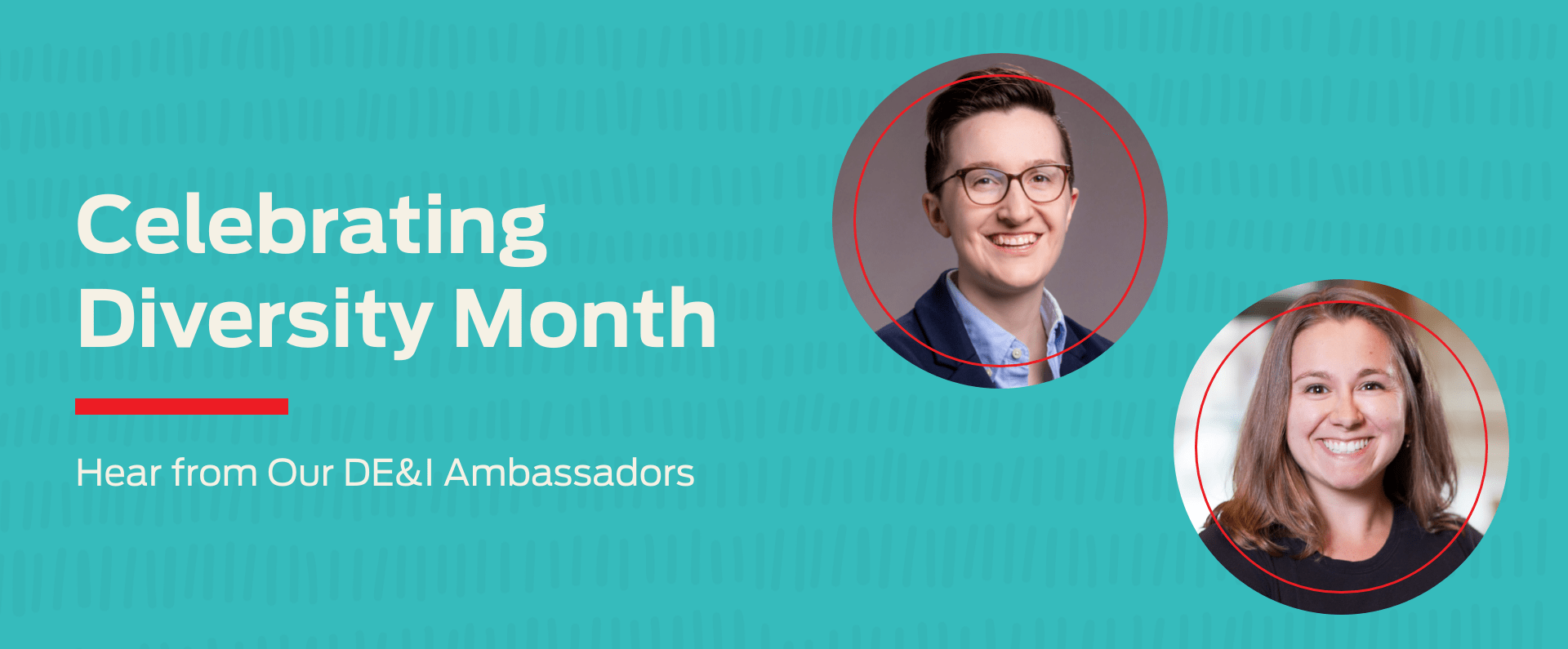 Our People
Celebrating Diversity Month | Nestlé Careers
April is Celebrate Diversity Month, and we reached out to our Diversity, Equity & Inclusion (DE&I) Ambassadors to hear how they choose to celebrate and expand DE&I at Nestlé Purina. Keep reading to hear from associates Brittany, Talent Acquisition Supervisor, and Frankie, Senior Quality Technician. Respectively, they support the LGBTQ+ Workstream and the Disability Workstream.
How do you celebrate diversity in and outside the workplace?
Brittany: In the workplace, I try to make celebrating diversity a habit for myself and for those around me. I discuss educational resources and opportunities to engage in cultural activities in my team's weekly meetings. Outside of work, I seek out cultural celebrations and connections. I love attending local festivals, learning from exhibits at museums, and trying out new restaurants with different cuisines.
Frankie: My immediate family is made up of many different races, ethnicities, abilities, and genders. My lived experiences have inspired my work in DE&I. It is something I am very passionate about as I have experienced many of the challenges individuals face when they are part of minority groups.
What are the most rewarding aspects of working on a diverse team?
Brittany: I have learned so much by working on a diverse team. I am grateful for the different perspectives my teammates bring to their work and for their openness to my unique experience in return. Personally, the most rewarding aspect is seeing others feel comfortable being their full selves at work and knowing that in some way I have contributed to that environment.
Frankie: Studies have shown that diverse teams generate better returns, offer new viewpoints, better results, and overall better team performance. I love being part of diverse teams because it allows me the opportunity to learn from others with different backgrounds and explore new ideas.
Have you brought any DE&I initiatives to work? If yes, how did Purina support your idea(s)?
Brittany: I've been able to implement several ideas across my department, including updating our team's DE&I training. It's been great to have not only the support of my leaders but the energetic participation of my colleagues, as well.
Frankie: In 2022 I developed and executed a Food Allergy Awareness Campaign, as part of the DE&I Disability Workstream Strategic Plan. The goal of the campaign was to bring awareness to food allergies, the challenges they pose to associates, and to bring change to our campus dining. Our campaign was very successful, and we now have more options in our cafeteria and at food-centric events.
Do you feel valued as a DE&I Ambassador? How?
Brittany: I truly do feel valued. I feel this when I get recognition from the DE&I team for my efforts, when my manager appreciates my contributions in the DE&I space, and when my colleagues reach out to me about an idea they have or an event they want to participate in.
Frankie: I feel very valued as a DE&I Ambassador and valued by my managers. I continue to receive support and recognition for my efforts.
Follow us on our social media channels Facebook, LinkedIn, or Instagram for more updates on Nestlé Purina's DE&I in action.