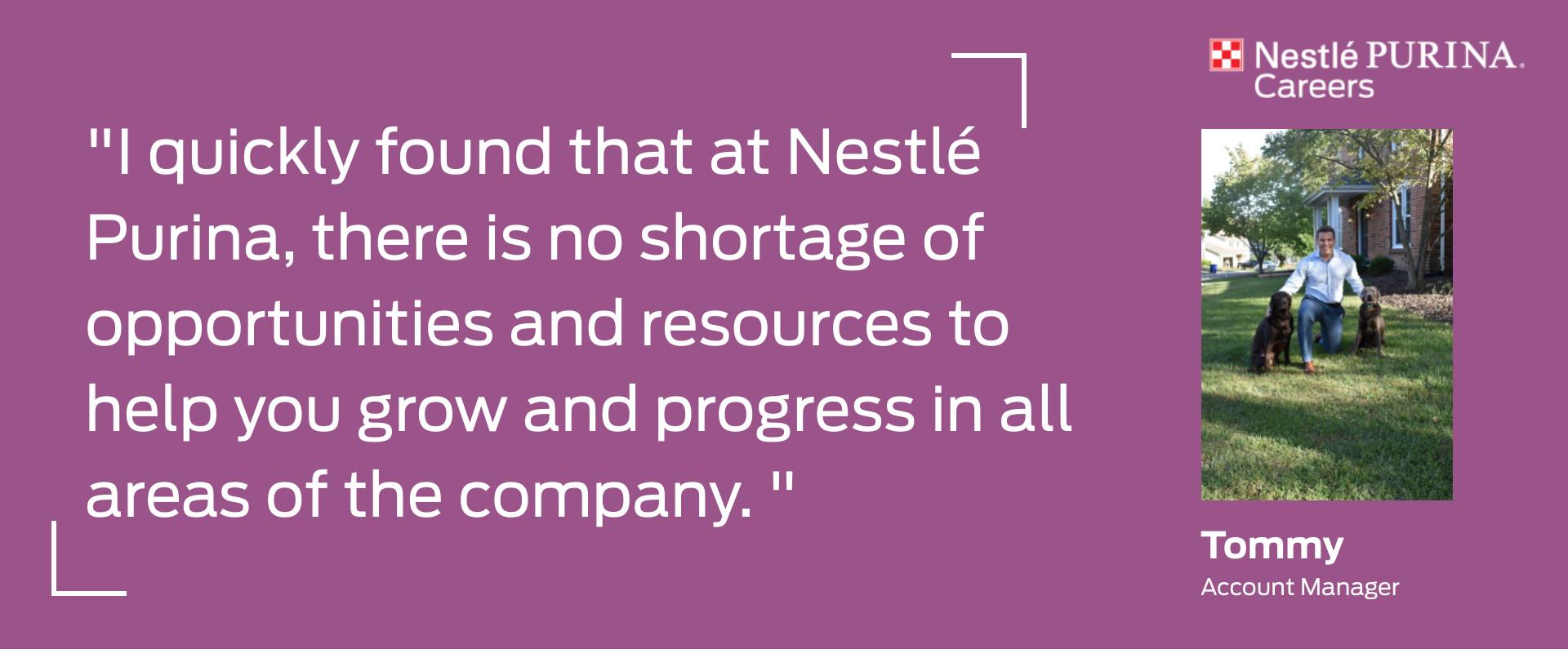 Our People
Associate Spotlight: Tommy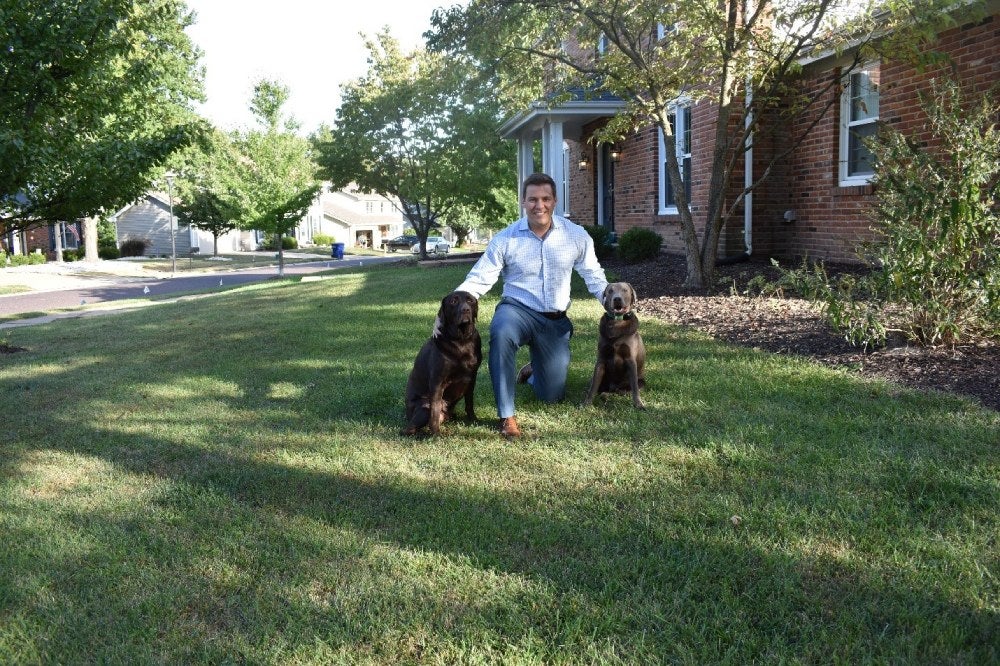 POSITION TITLE: Account Manager | Purina Sales
Tell me about your career path to becoming an Account Manager in our Nestlé Purina Sales group.
I came into the company as a Nestlé Purina Veterinary Consultant (a Territory Manager), managing our veterinary diet business in Dallas, TX. This role was rewarding and exciting as I truly got to run the territory like it was my own business. As I networked within our group and learned more about the Account Manager role, I identified this was a role I was interested in and was encouraged by my boss to voice that and pursue the role. With a combination of results, timing, and a bit of luck, I soon found myself interviewing for the role and had the opportunity to accept, bringing my wife and I from Dallas, TX to our Headquarters in St. Louis, MO.
What made you decide to join Nestlé Purina? What did you do prior?
My career started in 2012, one week after graduating from Robert Morris University in Pennsylvania where I majored in Marketing and played NCAA Division-1 Ice Hockey. I accepted a field sales role in St. Louis, MO with a start-up company, which led to roles managing key accounts and then managing distributor business in expansion territories. Many factors led me to join Nestlé Purina, but the biggest factor was the opportunity to continue to develop and grow as a leader with an industry-leading organization that truly values its employees and has a strong culture. It was a no-brainer.
What makes working in Sales at Nestlé Purina different from other companies?
To me, what makes working in Sales at Nestlé Purina different from other companies is the value placed on personal development and cross-functional experience. The courses and career support here is tremendous and highly encouraged. Individuals truly have every opportunity to voice and seek out a career path specific to their interests, and it's uncommon to find co-workers here who have not worked (and had success) in several different areas.
What account(s) do you support and what are your primary responsibilities?
In my Account Manager role, I am directly responsible for our veterinary diet portfolio of products within the growing e-commerce channel. On a daily basis, I interact with e-commerce customers as well as with internal teams at Nestlé Purina including marketing, supply chain, logistics, and finance to ensure we are operating efficiently and set up for growth and success.
What unique skills make someone successful in the position?
I think this may apply to many roles, but a willingness to learn and accept new challenges seems to be the biggest, especially in this ever-changing retail landscape.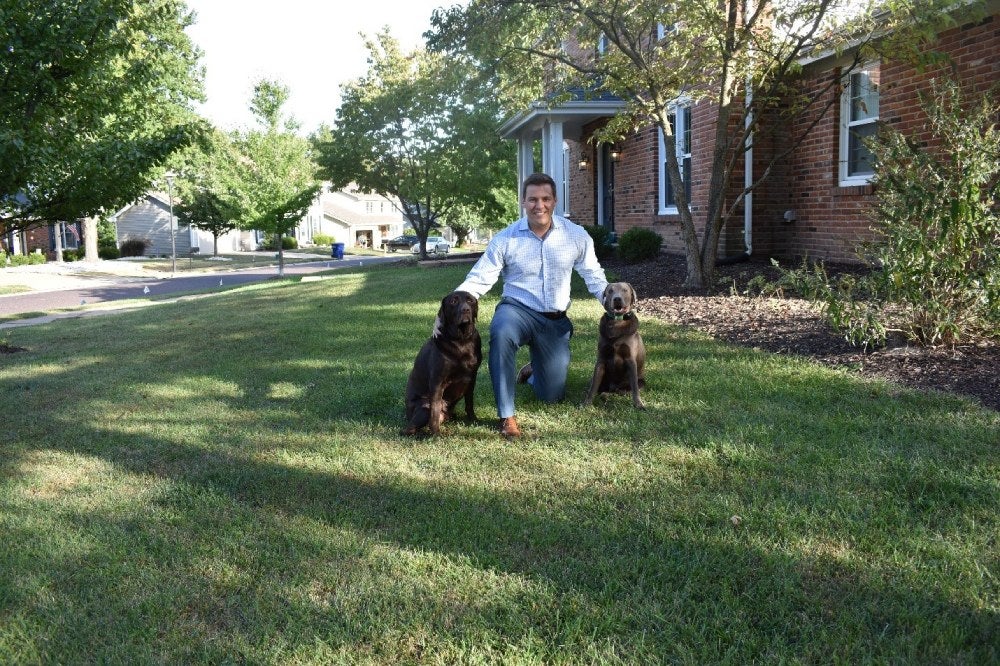 Tell us about the most exciting project you've completed or are currently working on.
There are a lot of exciting projects in the works, but what excites me most is being directly involved with a retail and consumer landscape this is rapidly changing, and to see how fast we're making changes to not just keep up, but to stay in front of these trends. It's exciting and rewarding all at the same time.
Our Founder challenges us with the 'Dare to Stand Taller.' How do you Stand Taller?
I Stand Taller by seeking out responsibility, holding myself accountable, and by approaching challenges and opportunities with a positive mindset, especially when outside of my comfort zone.
What advice would you tell someone considering applying for a role at Nestlé Purina?
My advice is to think about what you want long term, where you want to be, and what you value. I quickly found that at Nestlé Purina, there is no shortage of opportunities and resources to help you grow and progress in all areas of the company.
Outside of work, what are you passionate about?
Outside of work I am most passionate about spending time with my wife, family, friends, and 2 Labradors – Benelli & Louie. I also enjoy staying active whether that's hockey, golf, traveling, or just spending time outdoors.