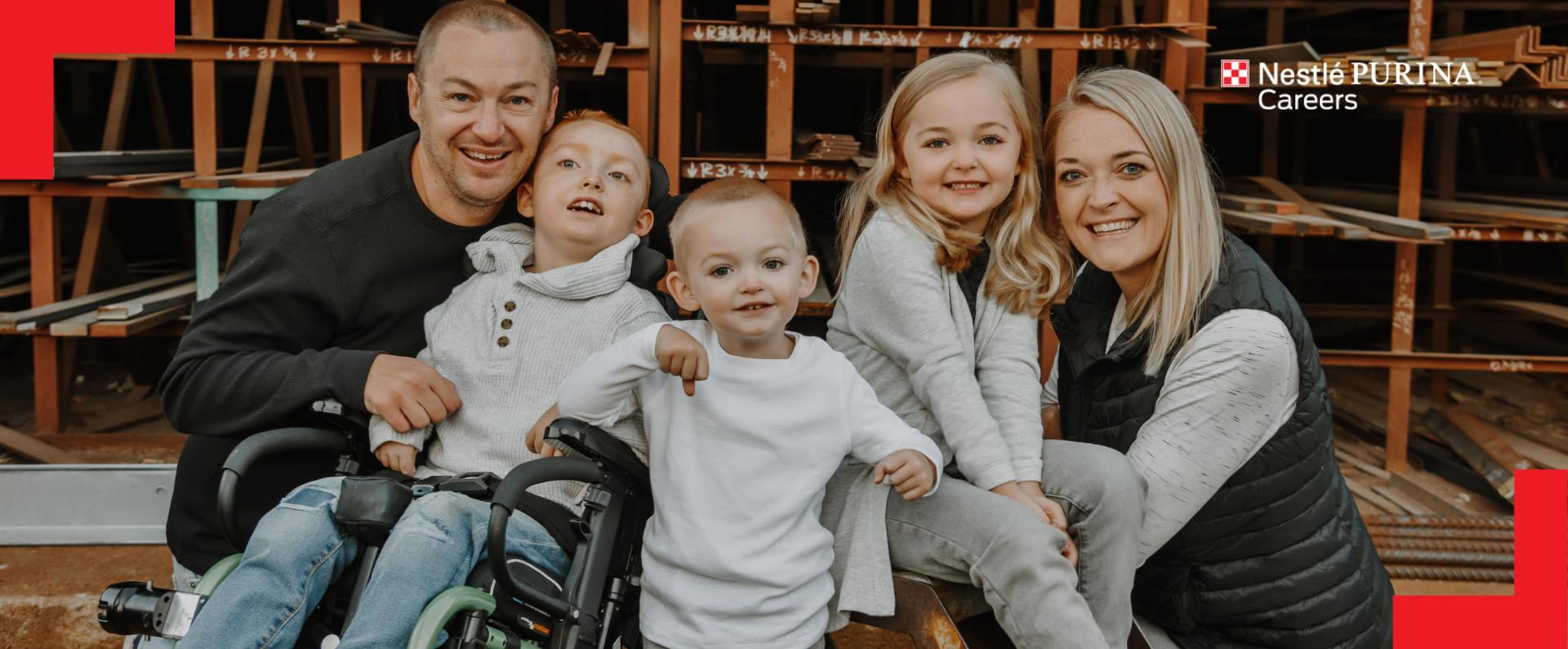 Our People
Meet One of Our Associates Who is Striving to Create Inclusive Workplaces Within Our Factories
Tell us about yourself and what you do for Nestlé Purina.
My name is Liz, and I work in our Crete, NE factory as a Sr. Manufacturing Excellence Manager. I began as a contract employee with the Nestlé USA factory in Waverly, IA while I was finishing college. This led me to starting my career after graduation with Nestlé Purina PetCare in our Fort. Dodge IA factory. I've been with factories at Nestlé Purina for over 14 years, and have held roles in Safety, Operations Performance, and Manufacturing Excellence. Most of my time has been in Ft. Dodge and Crete, but I've spent a couple of years in our Bloomfield, MO factory, as well.
Can you describe the Factory Inclusion Challenge that you initiated?
The Factory Disability Inclusion Challenge is an initiative to help find ways to make our workspace more inclusive for those with apparent and non-apparent disabilities, and to find ways to partner with the communities around our factory locations in this effort. We often see our corporate headquarters achieving awards and positive scores on Diversity, Equity & Inclusion progress, and I knew the factories could and should be a part of the inclusion effort, as well. DE&I is something we can easily talk about supporting and bring awareness to, but in the spirit of "actions speak louder than words", I really wanted to see a different type of DE&I activity in the factories that revolved around real changes and actual improvements. In my role as DE&I Co-Lead for the Factory Outreach Workstream, I partnered with the Disability Workstream to craft this joint challenge. We asked for volunteers from each factory to create a team, build an action plan, and execute high impact, low effort tasks over the course of three months. We had 12 factories rise to the occasion and take the challenge!
What fuels your passion for Disability Awareness, and how have you felt supported by Nestlé Purina in your passion?
My first boss at Nestlé was Paul. His son, Tyler, spoke at engagements across the country focusing his message on "Ability Awareness." Tyler was diagnosed with Cerebral Palsy, but he didn't let it stop him from finding ways to live out his passions. You can watch Tyler's message at www.imtyler.org. Tyler's message shifted so many of my previous unconscious biases. Six years later, my first son, Payton, was diagnosed with Cerebral Palsy. I reached out to Paul for guidance as my husband and I were grieving this news, and he told me one thing that really stuck, "focus on removing the word 'can't' from our dictionary." We have carried that "mantra" and motivation for Payton ever since, and I have always been so grateful to have had Paul and Tyler as our role models for what life CAN be. There are ways to adapt and rise above the challenges, you just must get creative and have a good attitude.
My passion for inclusion and ability awareness has been stronger ever since, and this drives my focus on what we CAN do for those with disabilities, rather than be limited on what we think we CAN'T do. The solutions can be quite small and meaningful if we just spend a little time, effort, and creativity on them. Oh, and a bit of heart.
What is the main goal you are trying to achieve with this challenge? Did anything occur that you didn't expect to achieve, but proved to be a positive change?
The main goal was really just to challenge mindsets and unconscious biases around what could be possible within our factories around disability inclusion improvements. I hoped that at minimum a few factories would raise their hands to participate. I was thrilled to see 12 factories nominate a champion, or team to lead the effort! Knowing how busy our factory associates are, I was amazed to see all of them finish with some improvements completed and many with plans to carry them forward. It truly felt like a real change movement started and that it would continue even after the challenge was over.
In what ways can factories continue to improve their facilities to be more inclusive?
When we launched this challenge, I created a "starter guide" full of several ways to take small steps at inclusion improvements. We will update the guide following this challenge so that it can continue to be a resource for factories to use. If a factory has an Employee Experience committee, or a DE&I committee, use them as a resource to brainstorm and prioritize improvements moving forward. So much can be uncovered by our Leadership Teams when it comes to listening and seeking feedback on how we can make better accommodations, as well. The best part about making something better for an employee with a disability is you will almost always make it better for ALL employees.
What would you tell someone about our Disability, Equity & Inclusion efforts?
Our efforts around DE&I are growing and ever-changing. What started mostly at our Headquarters location is now reaching the factories and the progress continues with adjusting our mindsets and implementing actions towards creating a more inclusive space company wide. We are shifting our outlook, networking with community-based organizations to teach us ways we can improve, and hearing from passionate employees who continue to speak up and get involved in the call to action.
Check out some of the strides our factories made in this challenge!
Fort Dodge, IA is creating digital Inclusion & Accessibility training for employees, and implementing a confidential way for associates to suggest ideas and improvements around accessibility.
Jefferson, WI reviewed their food options and are now taking new alternate options for gluten free/allergy sensitive foods.
Crete, NE facility took on a project around toilet paper dispenser locations after receiving feedback that they were installed extremely low to the ground and difficult to reach. They now have them placed above the handrails in the stalls.
Eden, NC is partnering in 2023 with the local Miracle League Baseball program for children with mental and physical disabilities. The factory will sponsor a night to be buddies and play with the children. They are also working to support or sponsor a local camp, Camp Carefree, for kids with chronic illnesses and disabilities.
We're grateful for employees like Liz, who continue to push for a more inclusive workplace, both at our headquarters and our factory locations. If you want to join an inclusive team, we encourage you to view our open careers.