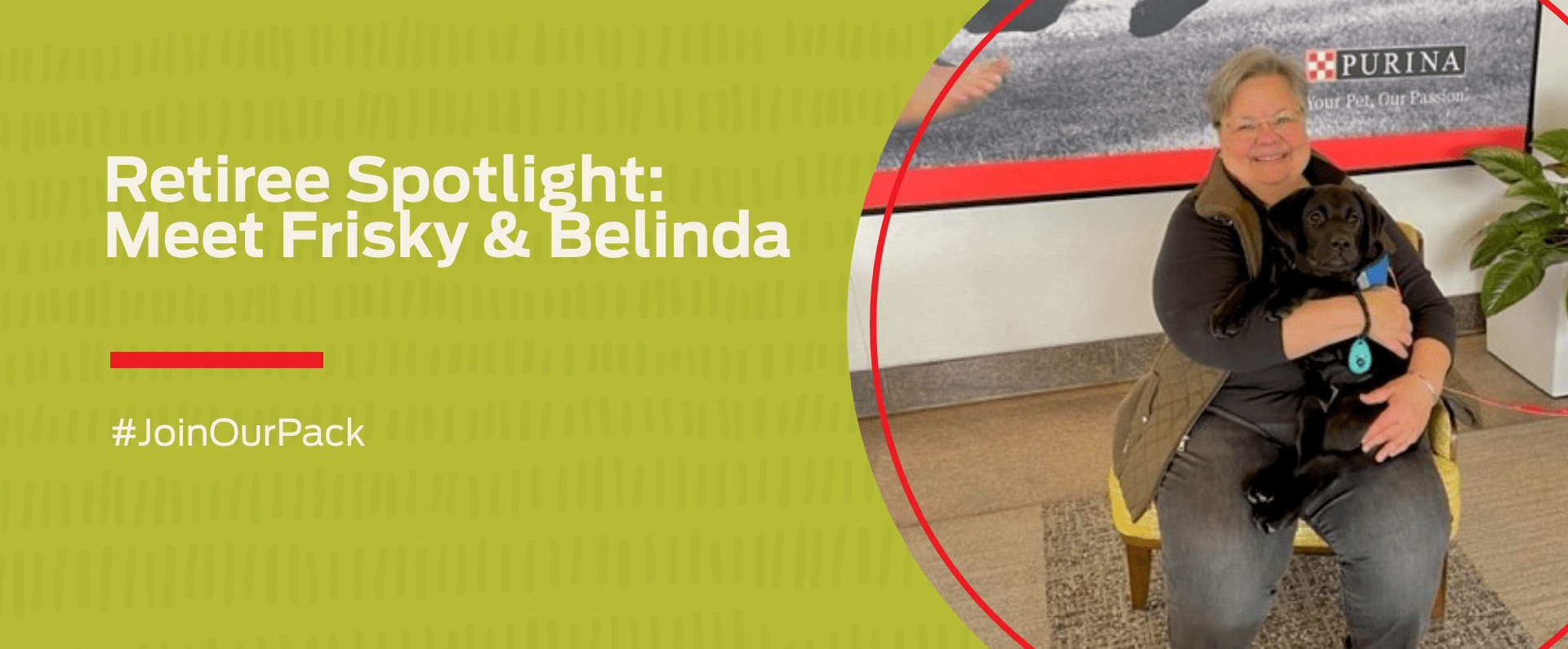 Perks @ Work
Retiree Spotlight Meet Belinda and Frisky
A career with Nestlé Purina means joining an organization that supports your passions and presents you with new opportunities. Hear from Belinda, a Purina retiree on her journey with Duo Dogs, a St. Louis non-profit we partner with to train and connect dogs to individuals with specific physical, emotional, and social needs.
You retired from Nestlé Purina; can you describe your career journey with us?
I started with Nestlé Purina in 2006 and worked in the Organization Development (OD) and Training department for 12 years. I worked with a team on development, innovation, and leadership initiatives. I left the company as Senior Manager of Organization Development.
How did you become involved with Duo Dogs?
I'd always wanted to help raise a service dog. In college, I worked with several blind students and saw the impact a dog made in their life. Through Nestlé Purina, I worked with an organization in Michigan and had the opportunity to raise a puppy but decided against it, as it would have been long distance, and I didn't think that would be the best experience.
My dog, Lucy, and I went through Touch Training with Duo Dogs after I retired. I was aware of their mission and what they did and was very impressed. When I saw the notice in the Retirement news that they were looking for Puppy Raisers, it seemed like the right time and the right opportunity for me. That is how I came to meet Frisky, my Duo Dogs trainee.
What is Frisky's personality like? What are some of her favorite activities?
Her personality is just beginning to become more evident. She's smart, affectionate, curious, and active. She's becoming more aware of everything around her which means she's starting to explore more and not necessarily where you think she should explore. There are times when she just sits there and looks at you as if she's trying to figure out exactly who you are and what you want her to do.
What advice would you give to an individual wanting to participate in the Duo Dogs program?
It's a lot of work! I thought I remembered how much time puppies take, but I think I underestimated a bit. Now that we've settled into a routine it's been working out great. I live by myself and that has a few challenges. My daughter and son-in-law provide extra hands when I need them. My older dog certainly is a big help because Frisky will do anything she does and go anywhere she goes. Thankfully, she's very well behaved.
I think you must go into this experience with the bigger goal in mind. I tell Frisky all the time that she'll have a big job to do. I'm raising this puppy to make a difference with others, either in a group or individual placement. I want to do the best I can to prepare her to succeed.
What would you tell someone considering a career with Nestlé Purina?
My time at Nestlé Purina was the best of my career. I worked in a supportive environment and was able to use creative approaches to many of the company's issues. I worked with committed professionals who wanted to do their best. And it was a challenge to deal with the competing priorities and audience needs. The underlying values were a good fit with my personal goals and values. And while no place is perfect for everyone, Nestlé Purina was a great fit for me. This will sound hokey, but I often said how much I loved my job.
Ready to jump into a career with us? We hope so! Hear from more associates here, and check out how we continuously support their passions and work with our community to better ourselves.