Our People
Our Experience with Duo Dogs' Touch Therapy Certification Program
Meet Rodney—VP of HR Operations, Compensation
Tell me about yourself and your role at Nestlé Purina. 
I began my career journey with Nestlé Purina as an HR Trainee at our Denver factory. I attribute some of my favorite memories from working at Purina to the time spent in this factory where I got to acclimate to the culture. I went on to spend the first 16 years in factories, and the following 17 years I have spent on the corporate side of the business. I started my current role as VP of HR Operations, Compensation in December of 2022. Before my current role, I lead the DE&I team for three years as Senior Director, and at the same time served as an HR Business Partner. The DE&I assignment was unexpected, but our former HR President, Steve Degnan, encouraged me to take on this role. I realized being a part of the DE&I team was something that I needed to do. I ended up learning a lot about myself and other people, and was ultimately pulled out of my comfort zone for the better.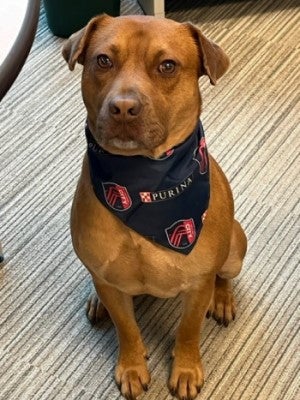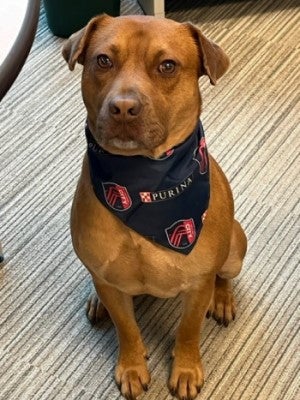 Tell me about your dog, what's their name and when did they join your family? 
My dog's name is Brooklyn. He's a terrier, chow, lab and boxer mix, and I got him in 2020 from a local St. Louis shelter. I had wanted a dog for years, but when touring shelters, none of the dogs felt like the right fit—that is until I met Brooklyn. Brooklyn Bridge is his full name, and he was brought in with a group of rescues that were given New York themed names. I grew up in Brooklyn, NY, so it felt like fate and that we were meant to be together. His demeanor was great, and he got along with my family and matched our personalities quickly.  
How did you learn about Duo Dogs and their Touch Therapy Certification Program? 
A communication came across my desk at work about the Duo Dogs Certification Program starting at Purina. Brooklyn has great temperament, and this communication sparked an interest in wanting to give back to my community. Throughout the program we were put in a variety of scenarios, and it was very clear that he would perform best with older populations given his patient and calm demeanor. This was favorable because I wanted to spend our volunteer time with seniors since my mom recently moved into a senior living facility. Seeing how Brooklyn interacted with her prior to that transition was really powerful, so I wanted to share that sort of interaction with others.  
What was your certification experience like? 
The whole program lasted between 12 and 16 weeks. The first phase was about general behavioral commands. When that phase was passed, we moved onto working with obstacles. The obstacles included how to rise on furniture and working with people in a wheelchair or hospital bed. The training sessions were not only for the dogs, but for the owners, too. We learned to understand our dog's emotions and cues of when something became too much for them. The trainers we worked with were fantastic in how they interacted with us. There were moments where Brooklyn wasn't hitting all the marks, but he was highly motivated by treats and would eventually pass each task. It was important to remember that every dog, depending on outside factors, experiences vocal days or days of obstinance. So, we made sure to set up time to work and then played afterwards. 
What does the day-to-day look like for Brooklyn now that they're certified?  
I anticipate that Brooklyn and I will work an hour or two per day at our service site depending on facility hours. I'll bring him to work with me at Purina and then stop by our designated facility on our way home to visit with as many residents as possible.  
Can you share one impactful experience that you've had since you've earned your certification? 
Brooklyn and I have developed a strong bond since going through this program together. He follows me around everywhere when I'm at home and chooses not to leave my side. It's very clear to my wife and kids that he's my dog.  
Any tips or advice for folks taking their pets through the Touch Therapy Certification Program? 
Make sure that you have the time to commit to not only the certification program, but the time after the program including volunteer work and retraining if necessary. I use the same training tools and commands at home that we learned at Duo Dogs to avoid confusing Brooklyn.  
How does Purina support you when you pursue new challenges or opportunities? 
Purina has supported me throughout my entire career here. I have a healthy work-life balance and the culture of this organization is truly special. I've always been given the opportunity to do something different and to continue learning. Since new opportunities are so prevalent, there has never been a need for me to look elsewhere for a new role. I've had experience in different locations and areas within HR from working as an associate of Purina which has provided me continued growth for many years. 
Our work with Duo Dogs reinforces our belief that pets and people are better together. Make sure to follow our Facebook, LinkedIn, and Instagram social channels to see more content related to Duo Dogs and the work our associates are doing in their community.
Interested in growing your career with us? Join our talent network to be alerted of the most relevant job opportunities matching your skillset.