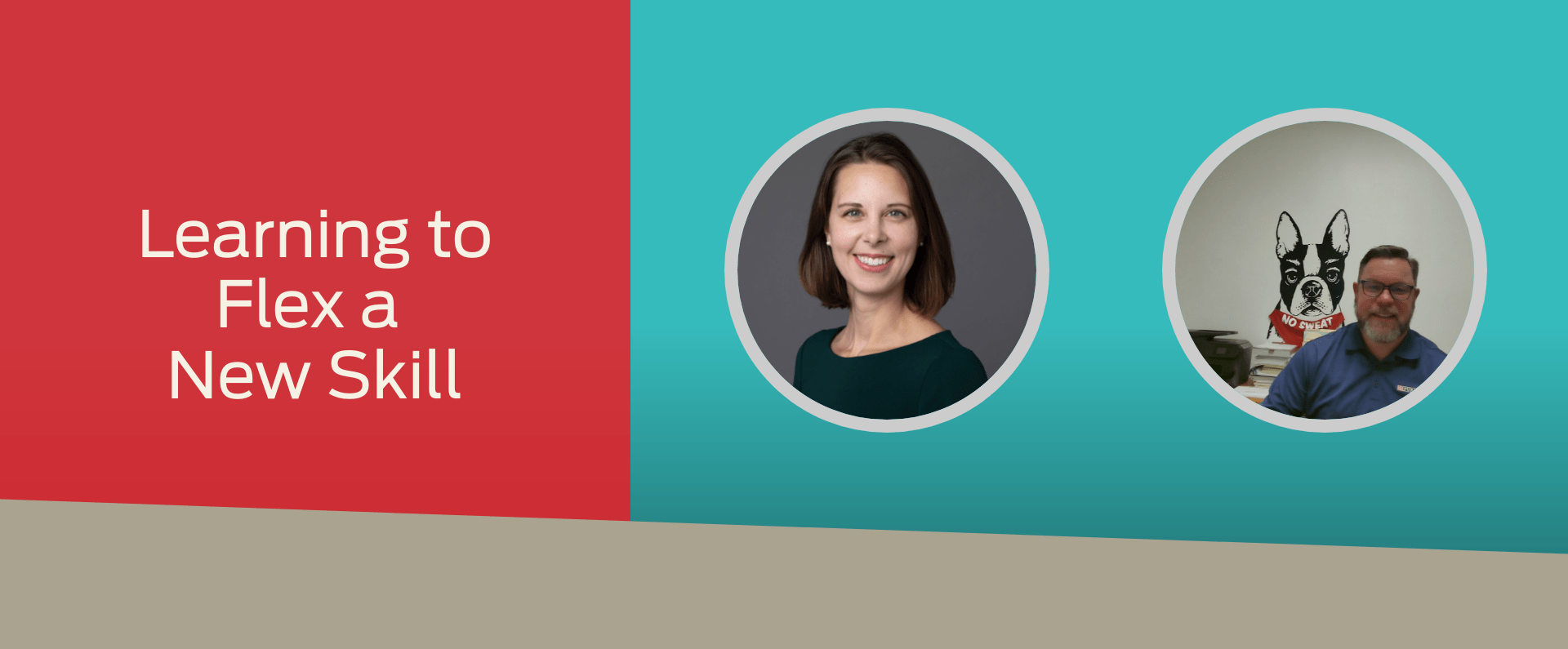 Our People
Read About How Shannon and James Flex a New Skill (and Language!)
Our small but mighty Library and Information Systems Team offers unique learning opportunities for our associates. Learn from Shannon and James on how they were able to use this benefit to promote a culture of continuous learning.
Tell us about yourself and what you do.
Shannon: I have been working for Nestlé Purina for 12 years. In my time here, I've worked in various marketing roles within the U.S. market, the Global Strategic Business Unit, which works to advise on global business initiatives. I returned back to the U.S. market, finally moving to Europe, where I'm the Marketing Manager for the PRO PLAN brand.
James: A little bit about myself… I'm a nerd at heart. I love the challenges, adventures, and rewards that come with learning. I joined the Marine Corps straight out of high school where I went from small town U.S.A. to a multicultural environment where everyone looked and spoke differently than the people back home. Since then, I have been fascinated with people and different cultures. My wife Cara, who I've been married to for twenty-eight years, shares my interest in new people, cultures, and cuisines. We raised four boys who we've given the opportunity to experience as much cultural diversity as we could. In 2005, I started as an external contractor supporting the Millwright team at the Nestlé Purina Headquarters. In 2008 I was offered the opportunity to become a full-time associate on the Site Services team. Through some conversations, mentoring, and training, in 2018 I joined the Purina Farms team in Gray Summit, MO, which is a family-friendly place where pet lovers (and pets) go to play, learn, and compete. There, I joined the Site Services team as a Maintenance Supervisor, and in 2022 I was promoted to Maintenance Manager. This is my eighteenth year at Nestlé Purina.
Our Library Services team offers unique benefits to our associates. Tell us about your experience using these benefits and how it has helped you.
Shannon: I was lucky to be introduced to the Library Services on one of my first days working as an intern in the Marketing department and have benefited from their expertise and resources in multiple ways. In the past they've helped me with background research while assessing emerging categories and product ideas. I have accessed publications like Harvard Business Review and McKinsey Quarterly online. The library once even purchased a book that I'd identified as part of my Development Plan (How Brands Grow by Byron Sharpe – worth the read!). More recently, I used Rosetta Stone (through the library subscription) to start learning French in preparation for a relocation to Switzerland.
James: As I mentioned I'm a nerd and a lifelong learner. I feel like if I'm not learning something I'm wasting time. During a presentation a few years ago, I learned the Library Services team offered free access to the Rosetta Stone Language app. Since Spanish is the 2nd most spoken language in the United States, learning basic Spanish seemed a natural choice. From my Military experience, I knew what it was like to be in a place where my first language wasn't the spoken language. I felt excluded many times, even though I knew it wasn't intentional. I wanted to learn so if someone else was in that situation, I could help break the language barrier and help them feel included.
What's something you learned when taking your lessons that you found fascinating or perhaps appreciate more now than before?
Shannon: Like any beginner in a foreign language there are some phrases or expressions that I find just wonderful in the language. The one that always makes me smile is "bon week-end" to wish a nice rest of the weekend.
James: From my experience, no matter how well you speak another language the fact you are trying sends a message to people; a message that says, "Hey, this person cares." Others appreciate the effort you are making, which opens doors. That goes a long way.
We offer a wide variety of inclusive benefits and more. Explain how you have felt supported by Nestlé Purina in your role .
Shannon: The support the Library Services team has provided over the years helped me grow as a marketer and business leader. They have helped us evolve as an organization and keep our competitive edge. The Library Services team is just one example of how advancement and development is a key principle at Nestlé Purina, and why it is such a special organization to build a career.
James: Our benefits are definitely 'Best in Show'. Everything from tuition reimbursement to ongoing learning opportunities, to heath care benefits, mental well-being, Diversity, Equity, and Inclusion efforts, and retirement benefits. Nestlé Purina has made it their mission to help associates enrich their lives now and in the future.
Without a doubt the greatest benefit I have experienced is an atmosphere of encouragement. Countless associates have encouraged me to live our philosophy of The Five Talls. Stand Tall with Integrity, Think Tall with Expertise, Smile Tall with Passion, Live Tall with Performance, and Create Tall with Innovation and Agility. When we conduct our work with these values, you can truly own your career and achieve great advancements here.
What would I tell someone interested in a career with Nestlé Purina?
James: Nestlé Purina is a place where opportunity for growth, support, and encouragement are part of the company culture. It's like no other place I have worked. You are only limited by your own reservations. I think my career speaks for itself. If you are willing to challenge yourself and give your best effort every day, things will naturally happen. From my time in the Marine Corps, I adopted a mentality that has served me very well; 'Get comfortable being uncomfortable' that's where growth lives.
Ready to take the leap in a new career? Check out our open opportunities and start your career with us today!