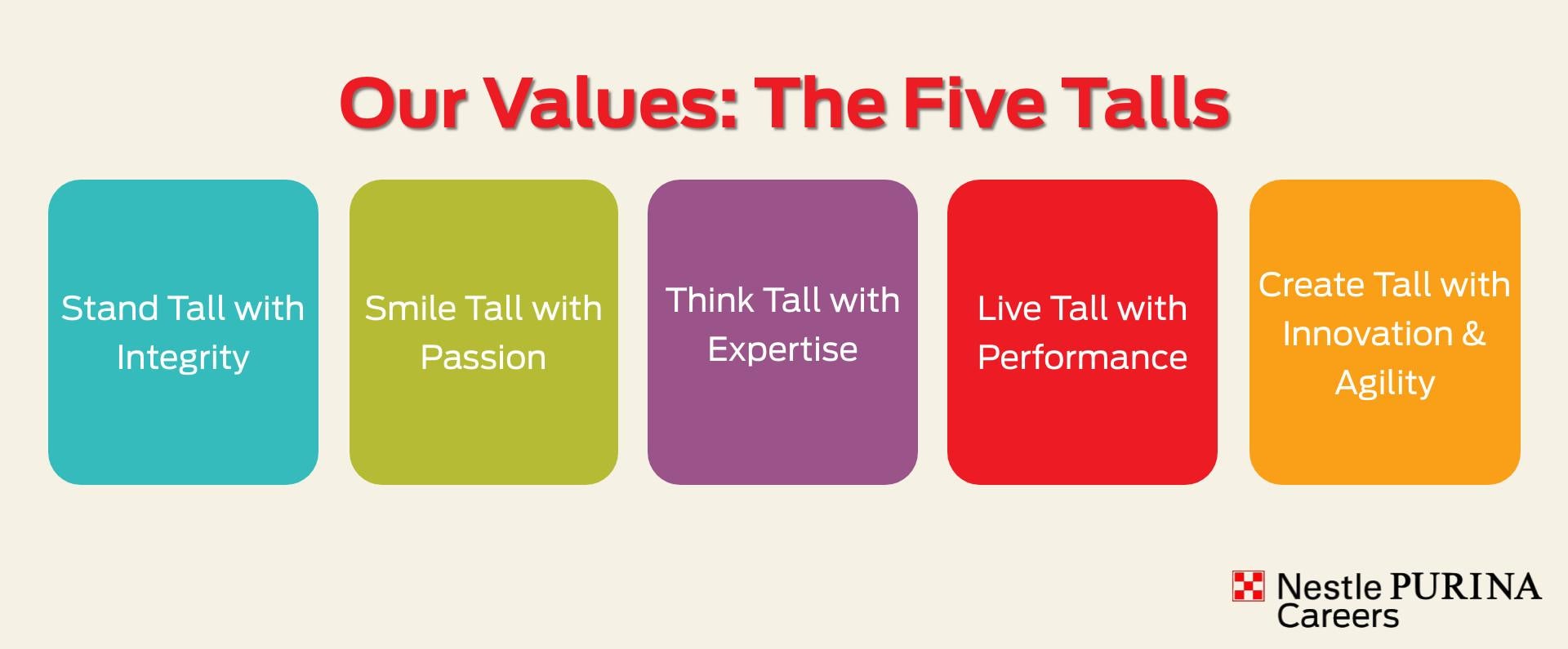 Our People
Our Values: The Five Talls
Our values, The Five Talls, are the framework for our ability, as a company and as individuals, to be extraordinary.
The term "Talls" holds high value in Purina's history – values that date back to the late 1800's. The history of the Talls is reflected in how our founder, Mr. William H. Danforth, imprinted his own personal values on our company. Today, we're proud to celebrate how we've stayed true to them.
In 1920, Danforth wrote a motivational book, "I Dare You," which spelled out his Four Talls: Integrity, Passion, Expertise and Performance. He wrote: "I Dare You to Stand Tall, Think Tall, Smile Tall and Live Tall." Those principles became the cornerstone of his philosophy – a set of values that has guided our business for generations. In 2009, a fifth Tall was added – Innovation. This addition demonstrated our commitment as a global leader to value, expect, and promote curiosity and innovative thinking among our associates.
Stand Tall with Integrity
Smile Tall with Passion
Think Tall with Expertise
Live Tall with Performance
Create Tall with Innovation & Agility
"Much of what I know has come from others," Mr. William H. Danforth, our founder, said. "So I make it a daily practice to meet people; people who know more than I do. I learn from them and add to my knowledge. I must also think tall and develop my being. Most important of all, I have found that I must live tall. No great achievement stands the test of time unless it is based on honesty, truthfulness, integrity, clean living, and a love for our fellow man," Danforth said.
The Five Talls are incorporated into everything we do daily. They are engraved in the ground on our St. Louis headquarters campus, painted along the walls in many of our buildings, and you can feel the presence of these values as you pass through the hallways of our nationwide facilities and factories. Click here to learn more about what these values mean to us.