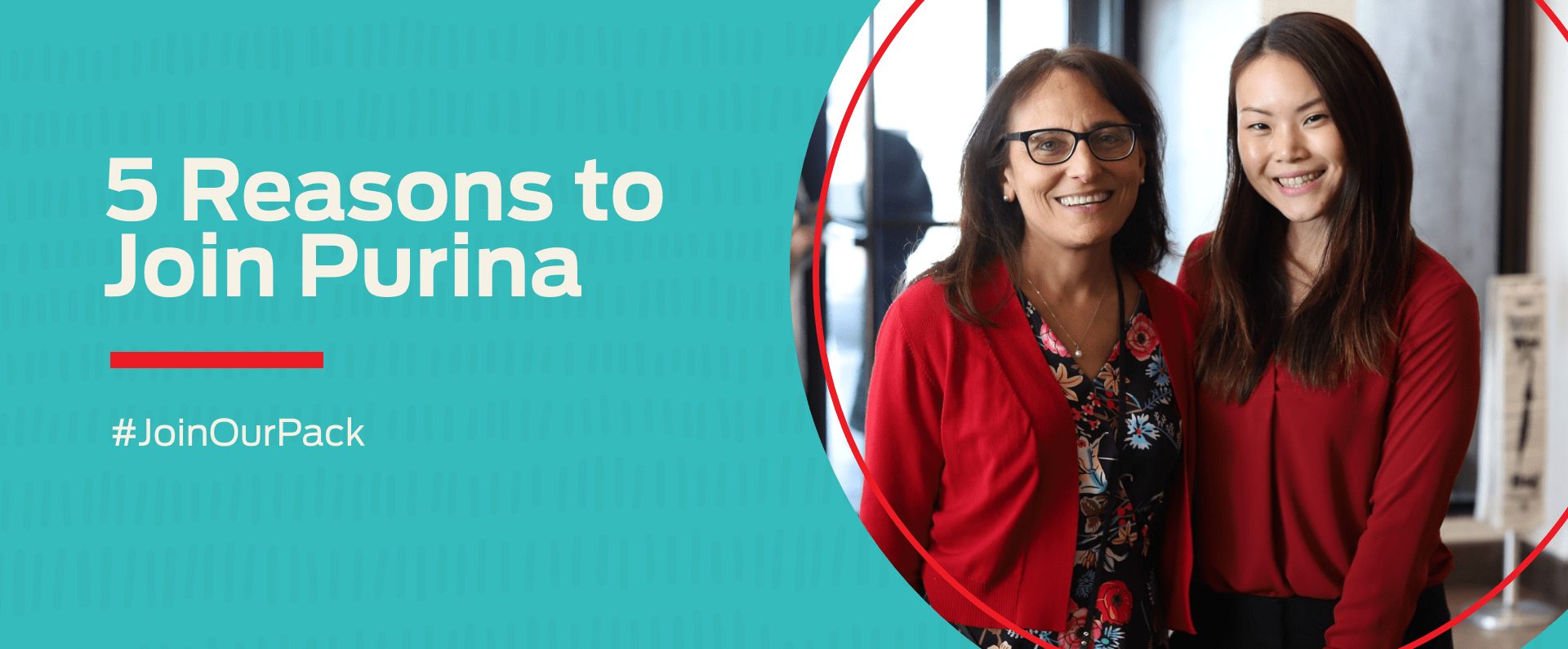 Perks @ Work
Five Reasons to Join Nestlé Purina
There is a lengthy list of "purrrr-ks" of working at Purina, but if we must pick the top five reasons to join us (and love us), it boils down to this: 
We're a market leader both on and off the shelf. 
With over 100 years in the industry, Nestlé Purina is the US' No. 1 pet care company in sales, volume, and market share. As of December 2013, we have achieved 10 consecutive years of improved sales and profit. Having over 500 scientists on our team devoted to providing the expertise behind pet health and nutrition, we do what we do better than anyone else. Since 2018, we've announced the opening of new pet food factories in Hartwell, GA, Eden, NC, and Williamsburg Township, OH. We'll continue to see capital growth through these and through the expansion of many of our existing factories as well.
We're consistently ranked a best place to work. 
In the top rankings by St. Louis Business Journal, St. Louis Post Dispatch and various other organizations, we've proven to be a place where our associates not only love to work, but where they choose to stay. Our most important resource and best asset is our people. We embody a wide spectrum of diverse individuals with unique personalities, skillsets, and interests. What unites us? Our passion for pets and the belief that pets and people are better together. Today, 43% of our associate body has remained with our company for 10+ years. We're proud to carry on the legacy of passionately enriching the lives of pets and the people who love them
We invest in our people just as much as we invest in our ideas. 
When you choose a career with us, you join a collaborative and inspiring culture – and we reward what you contribute and celebrate all you achieve here. We offer a competitive total rewards package inclusive of programs that support your physical, financial, and emotional wellbeing, in addition to retirement plans that help you plan for the future. We offer tuition reimbursement, opportunities for global experiences and, most importantly, the support for our associates to pursue their passions both in and out of the workplace. 
Our associates can bring their dogs and cats to work...every day. 
Not only are associates at the St. Louis Headquarters privileged to bring their dogs and cats to work, we've also started a global movement to help other companies become pet-friendly environments, too. Our pets are very much a part of our Purina Family – they share our office spaces, are often walked and taken to our dog park (which we call "The Barkyard") and they inspire us each day to be better. 
Civic responsibility and corporate sustainability are central to our mission. 
Although we make pet food, we have always been about our people and the people within our surrounding communities. We have an unconditional commitment to helping pets and the people who love them – donating food and funds and volunteer hours, in the millions, every year. And while we continue to live and breathe for the people and pets that we serve; we place it a priority to live more closely within the boundaries of nature by honoring sustainability practices. From the soil where our ingredients grow to our manufacturing facilities where our pet food is made, you can be confident that we're using resources efficiently throughout the journey of your pet's food.  Learn more about how Purina is reducing its carbon 'pawprint'. 
Does Purina sound like a place you want to join? 
Begin searching for more than just a job – find a career