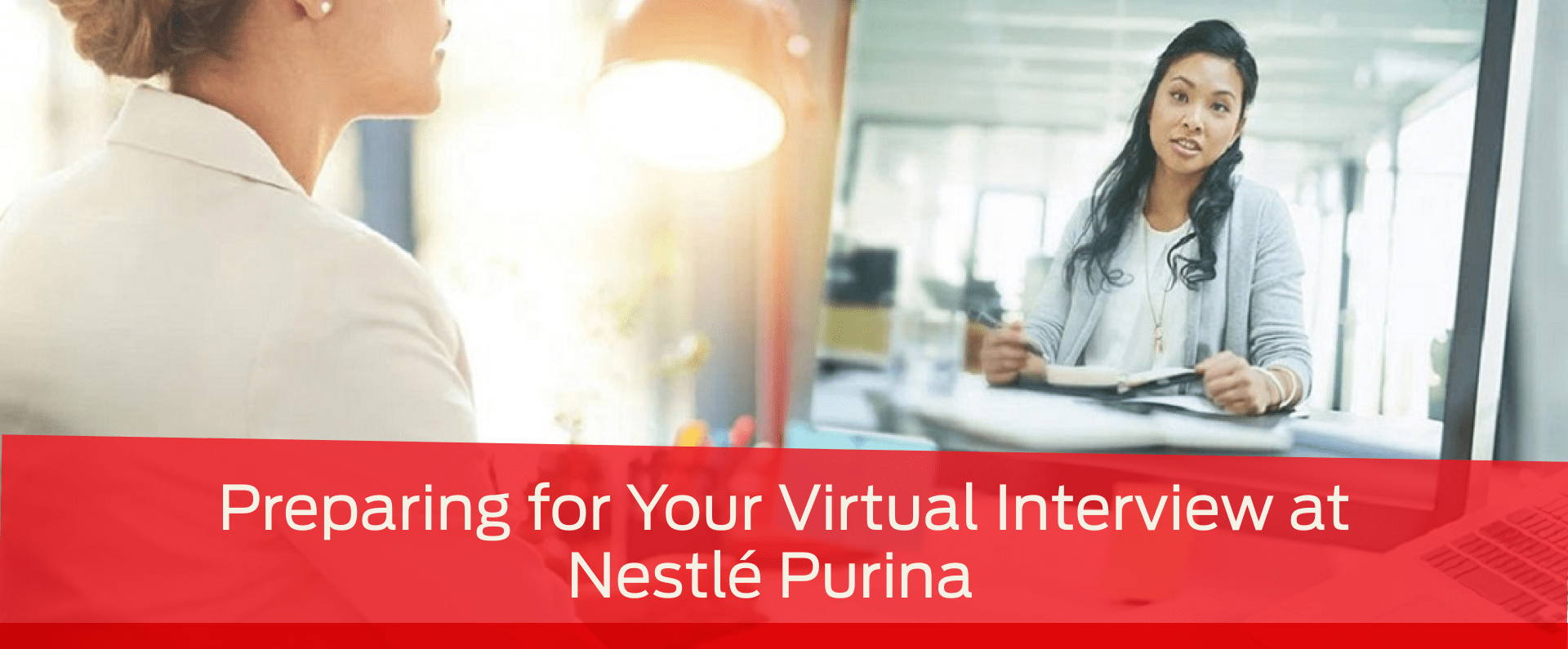 Industry Topics
Prepare for Your Virtual Interview
How to Prepare for Your Virtual Interview at Nestlé Purina
Our search for top talent often expands well beyond the local job market, meaning there must be a way for us to "meet" you virtually. Through technology, we have the flexibility to meet candidates where they are and facilitate virtual interviews. When candidates move forward to a face-to-face interview, we make every attempt to bring them to campus to allow them to experience 'a day in the life' of working either at our St. Louis headquarters office or one of manufacturing locations across the country. When this isn't possible, you'll receive instructions to take part in a virtual interview.
You'll want to prepare for this interview similar to any in-person interview. Even though it's through a screen, your face-to-face, virtual interview is still your opportunity to present your best self and make a strong first impression. The better prepared you are for your virtual interview, the more positive and beneficial the experience will be for you and the hiring team.
In addition to reviewing information on our recruitment and interviewing processes, you can use the tips below to prepare for a successful virtual, face-to-face interview:
Locate a quiet setting for the interview, free of background noise like a TV or radio and any potential distractions, like pets or visitors. Distractions in the background can take away from our team's ability to give you our full attention and vice versa.
Though it may be tempting to take the interview in your pajamas, experts say that you'll feel more confident if you're dressed for success. Business-casual is how we come dressed to work every day, although we certainly welcome business-formal for the interview.
If possible, position your camera to a portrait view with a blank wall or professional setting in the background. Body language is still noticeable during your virtual interview. Sit up straight, maintain eye contact with the camera, and be aware of speaking with your hands or yawning.
Do a dry-run; ask a friend or family member to participate in a mock, virtual interview. Use this as an opportunity to ease your nerves, ask for feedback, and as a final test for technical issues, such as internet connection, microphone/speakers and your camera settings.
Come prepared, but don't rely on a cheat sheet. We encourage you to plan scenarios to share with us during your face-to-face interview whether it's virtual or in-person. However, we're more interested in having a two-way conversation with you about your experiences than getting every detail of a project you worked on through a scripted response.
Treat this as any other interview: do your research, have your résumé on hand, be prepared to highlight your best work, and ask questions of the hiring team. After all, you're interviewing them, too.
We hope to see you face-to-face soon whether it be virtual or in-person. Use our job search page to view openings nationwide, apply online, and launch your career with us today. Additionally, we encourage you to join our Talent Network to be alerted of the most recent and relevant job opportunities matching your skillset.