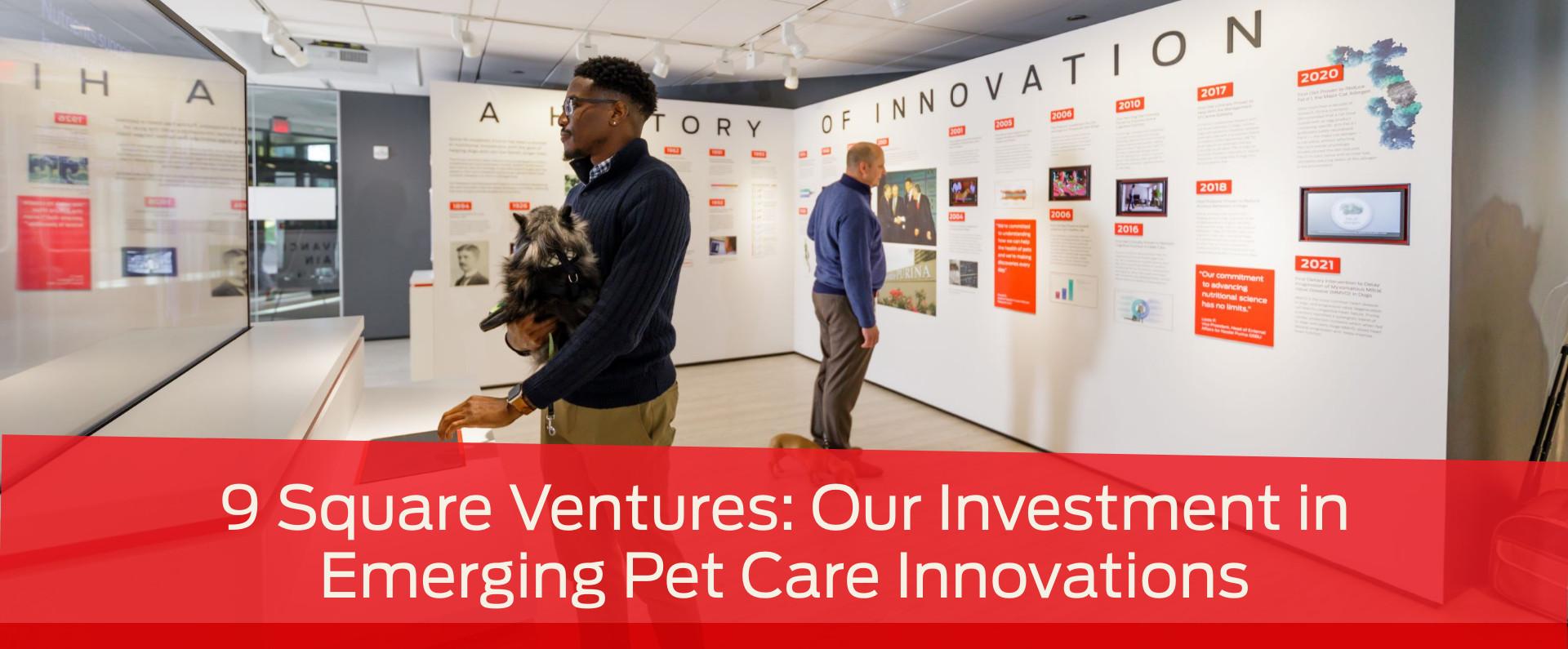 Industry Topics
Supporting Innovation Through 9 Square Ventures
9  Square Ventures | Our Investment in Emerging Pet Care Innovations
In an earlier state, "The Four Talls" served as the very core to our values. When we added a fifth tall, Create Tall with Innovation, we were serious about stepping up our innovation game. Since this addition, we have activated a 450-kilowatt solar array in our Atlanta factory, built a 56,000-square-foot LEED Gold-Certified Training & Development Center in St. Louis, and developed a cat litter product, Tidy Cats® LightWeight, that's half the weight of conventional litter—and we don't plan on slowing down anytime soon.
9 Square Ventures is a division of Nestlé Purina dedicated to investing in emerging pet food, snack, and care brands to help accelerate innovations within the pet care category. By partnering with entrepreneurs, small businesses, and venture funds who share the same passion for pets that we do, we have the opportunity to engage pet projects at early stages and take them to the next level. Through the work of this group, we support innovators, our business, and the industry.
As our corporate venturing group, 9 Square Ventures has been creating and fostering connections with pet care startups across our business since 2014. The team's mission is to leverage Nestlé Purina's knowledge, experience, and financial resources to help emerging pet care startups scale their businesses and make a positive impact on the lives of as many pets and pet owners as possible.
"It's about developing relationships with entrepreneurs and investors in the pet care business and pursuing creative ways to partner with those early-stage innovators who share our same passion for improving the lives of pets and people," said David Narkiewicz, Chief Legal Officer & General Counsel at Nestlé Purina and 9 Square Ventures officer. 
The initiatives identified and supported by 9 Square Ventures are highly diverse. For example, through 9 Square Ventures, we are an investor in Bar K, a unique destination featuring a fully staffed dog park, modern bar/restaurant, and event space that brings together dogs and people. One of Bar K's three locations can be found right in our backyard in St. Louis, MO. This partnership allows us to leverage their unique model to engage with dogs and dog owners in new ways.
Another example is 9 Square Ventures' annual involvement in the Pet Care Innovation Prize powered by Nestlé Purina. Five pet care startups from across the U.S. pitch their businesses to pet industry influencers and investors at Global Pet Expo for a chance to win the grand prize of $10,000 dollars and the support of our industry-leading organization. The Global Pet Expo is the pet industry's largest trade show attracting pet focused entrepreneurs and businesses of all sizes from around the world.
The 9 Square Ventures team is comprised of associates from various business units within the organization, including Finance, Marketing, and Legal. Nestlé Purina recognizes the passion and potential that entrepreneurs have within our industry—and the opportunity it creates when they are operating through channels that we don't currently have representation in. With our expertise and rich history as a market leader combined with the dreams and visions of entrepreneurs, we plan to continue making breakthrough innovations that make the lives of pets and pet owners better in every way.
Are you ready to take your career to the next level with a company dedicated to advancing innovation? Visit our job search page to view openings and apply online. We also encourage you to join our Talent Network to be notified of the most relevant job opportunities matching your skill set.