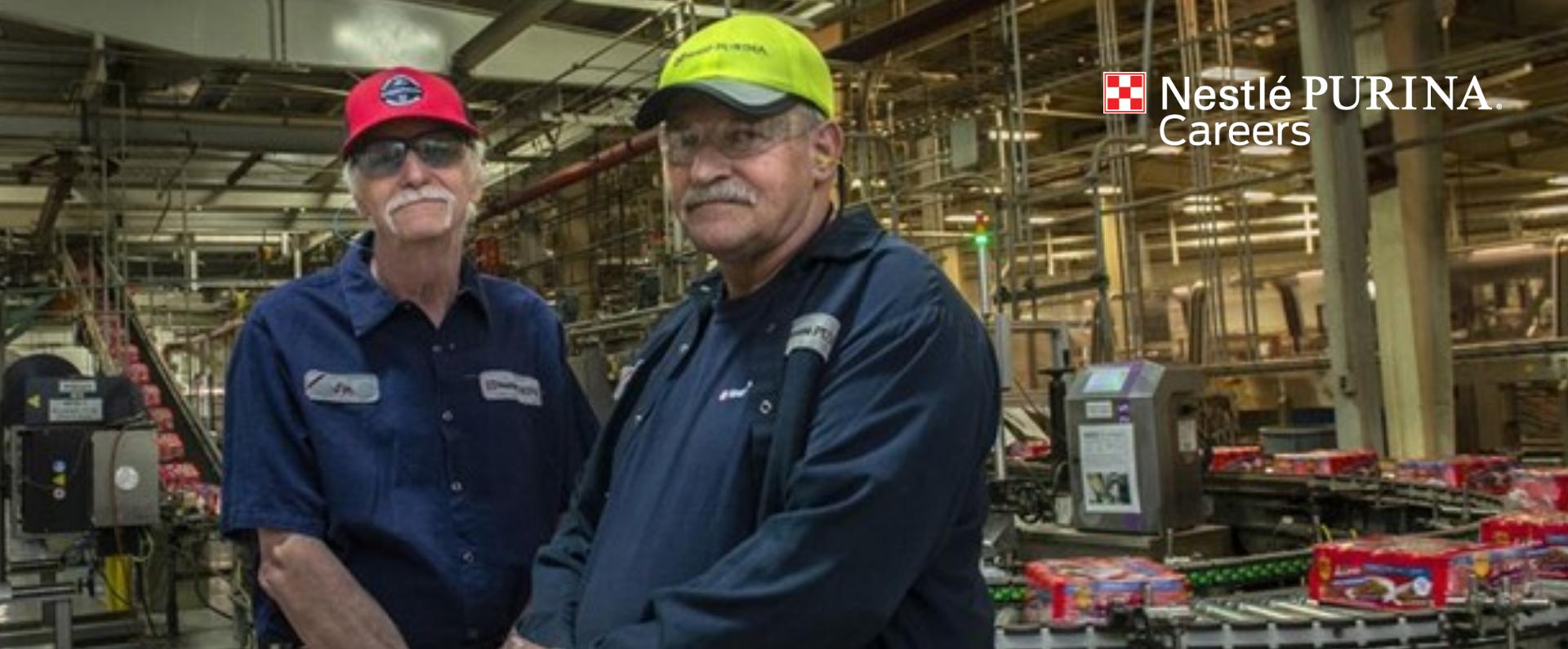 Our People
After 50 Years—Jim and Jim Say Farewell to Nestlé Purina
Nestlé Purina in Allentown, PA is commonly recognized by the red water tower with the checkboard, visible from the Pennsylvania Turnpike and home to the production of pet food brands like Friskies®, Mighty Dog, and ALPO with production on the ALPO lines beginning in 1936. Today, it's home to more than 480 associates, nearly half of which have been employed with us for more than ten years. Two associates, Jim W and Jim K, have called our facility home for nearly 50 years. With plans to retire in the coming year, Jim W. and Jim K. reflect on a life-long career.
With the workforce changing, it's a rarity among the next generation to retire from the organization in which you began your career. Jim W., and Jim K., reflect on their parents who, too, built a livelihood at one company. "We don't have many people that come and leave, which is good," said Winston, the plant manager since May 2017.
Something else both men have in common is a commitment to serving our country. After starting at Nestlé Purina, Jim W. was drafted into the Marine Corps in 1969, spending a portion of his service in Japan working in motor pool ordering parts for military vehicles—much like the work he still does today. Jim K. spent three years in the U.S. Army, 22 months of which he was in Germany. He returned as an Operator in can manufacturing.
Both Jim and Jim have witnessed Allentown grow and evolve over the years. The facility now produces brands like Friskies, Pro Plan and Mighty Dog, in addition to their flagship brand, ALPO. They also recall the acquisition by Nestlé and a visit from then U.S. President, Barak Obama. Thinking back to the start of his career, Jim W. recalls questioning if he was going to make it in manufacturing, recalling the physical demands of the job in the 1970s. "I saw these blocks of meat, and they were heavier than me," recalls Jim W., who weighed about 135 pounds back then.
With their retirement, Allentown won't lose any steam; this year the facility will complete a 2-year expansion in South Whitehall to boost production and create new jobs in the Lehigh Valley. Machines now do the heavy lifting and computers help run the machinery, boosting efficiency and safety, mentions Jim K. Both men agree they want to stay active after retirement. Jim K. plans to take up fishing again and caring for his son. Jim W. knew the time had come to retire after a friend and relative passed. He plans to spend his time working on cars or at his family farm.
Whether spending 50 years with us, or one year with us, we are committed to our associate's wellbeing even after they retire. We stay in touch through volunteer opportunities, company events, associate discounts, and more retiree perks. Learn more about our continued commitment to associates after they retire.