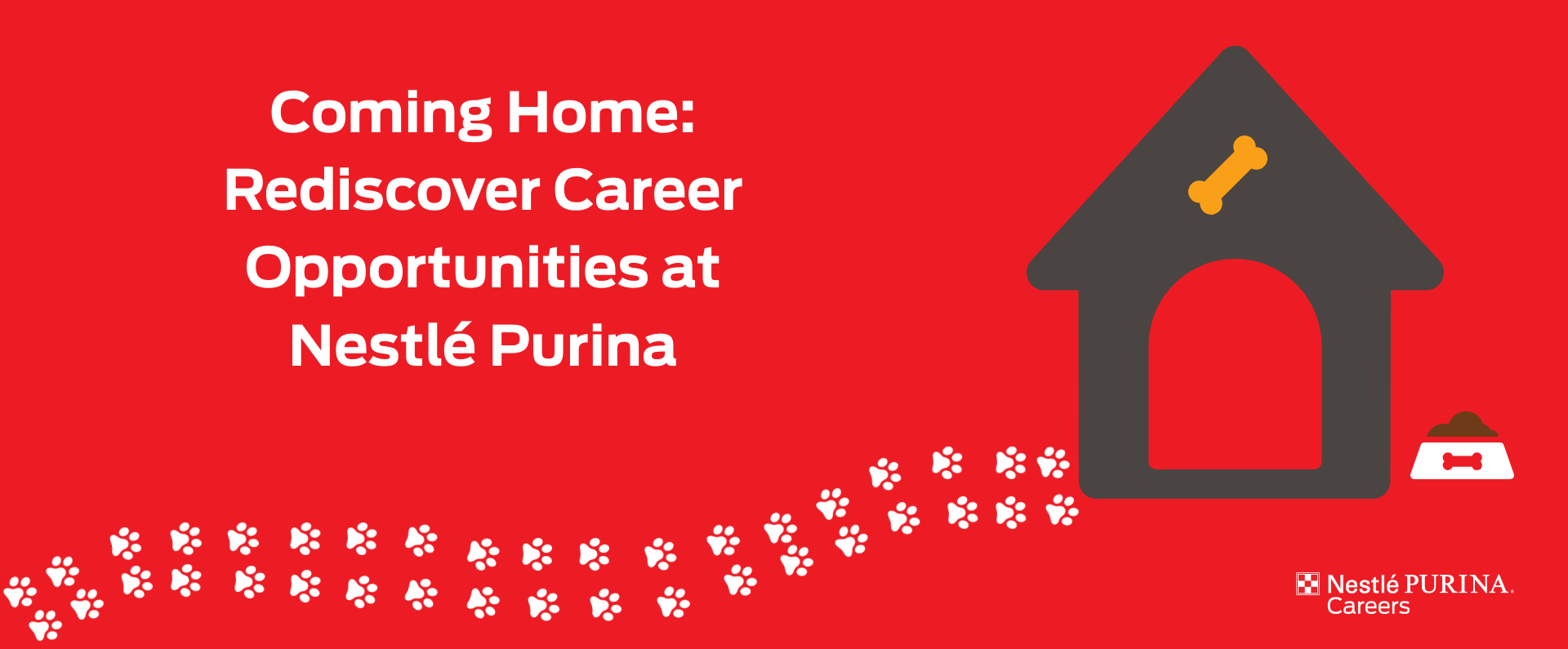 Our People
Welcome Home: Manufacturing Boomerang Employee Spotlight
"Boomerang" Employees—you may have heard this term, especially in today's market. A Boomerang Employee is one who returns to a company after leaving for another opportunity, and at Nestlé Purina, we too are seeing these employees pop up throughout our organization.
Mike began his career in the Management Development Associate program, traveling between our manufacturing facilities, and "boomeranged" back to the organization that launched his career in manufacturing after 8 years. Today, he is the factory manager of our Flagstaff, AZ facility and recounts what makes us stand out in the industry.
Tell us about your career path at Nestlé Purina.
I originally started my career with Nestlé Purina back in the early 2000s in what we now call the MDA program, or Management Development Associate program, and spent time learning the industry in our Davenport, Flagstaff, and Mechanicsburg factories. I ended up leaving the business and went to work for a competitor for about 8 years but had the opportunity to come back as the factory manager in Flagstaff just under 2 years ago. My family and I are really excited to be back with Purina in Flagstaff.
What ultimately brought you back to Nestlé Purina?
Purina has always been a great organization, I felt like I hit the jackpot when I joined out of college. The only reason that I left was because I was a young, single man given the opportunity to live in a big city with another organization that I moved around within for a while. In the meantime, I got married and started a family.
So, when my wife's career allowed us the flexibility to decide where we wanted to live, I thought to myself, "What's a company with a great culture I can work for?" It took me about 30 seconds of self-reflection to decide I wanted to return to Purina, where my career began. There are so many amazing things about this organization and having that external experience and seeing other companies only solidified that. For me, it was about finding the right culture that aligned with my values and Purina just stood out by leaps and bounds.
What did you miss about our culture when you were away?
I think first and foremost, it's the people. We talk a lot about the challenges that we have in our industry, whether it's trying to meet growth or drive bottom line earnings and that can come with stress in some capacity. My philosophy has always been you can't run from problems like that, they exist within every organization. But, when I think about the people I work with every day and how we problem-solve and drive solutions together, there is no other group of people that I'd rather go through those challenges with. Additionally, when I talk about supply chain, manufacturing, or product supply challenges, I believe we are leaps and bounds ahead of our competitors in terms of how we work. I considered how well our factories run and are maintained, as well as the cultural drivers of the Purina work environment in my ultimate decision to come back.
What sets us apart from our competitors?
For one, safety is a huge part of any manufacturing environment, but I think I think we take it to the next level around here. Leadership takes extra care in prioritizing our goal of making sure everyone leaves in the same condition they arrive. That's our number one priority and it resonates through all levels of the organization.
Another point that stands out to me, is our culture that supports associates' career development and growth. This gives our folks a high-level functional expertise, creates teams of tenure associates, and improves functions overtime to help supply chain run more smoothly across our organization. This kind of investment in people isn't true everywhere.
How do you feel that our organization supports associates' career paths?
I think Purina does a fantastic job in developing talent. I mean, even for my career before I left, there was always an opportunity to grow and develop. If you are delivering results, Purina is not only going to recognize that, but ask, "How can we help you expand that?" and support you in building your career.
Personally, we're seeing turnover in a positive way where our folks are getting promoted into regional roles and then we have internal candidates ready to promote within those local roles.
What would you say to a former associate considering returning to Nestlé Purina?
I would say it's an amazing business. The growth we're seeing in profitably is extremely resilient and speaks to the strength of our industry and the people backing it. If you've worked for Purina in the past, I'll tell you it's more similar than it is different. While there has been some change, our factories have become more collaborative internally and across the organization so we're always growing and changing. In summary, our people our amazing and we are a winning team.
---
Have you left our organization and are interested in rediscovering career opportunities at Nestlé Purina? Sign-up for our talent network to be the first to know about job openings that align with your skillset. We can't wait to welcome you home.