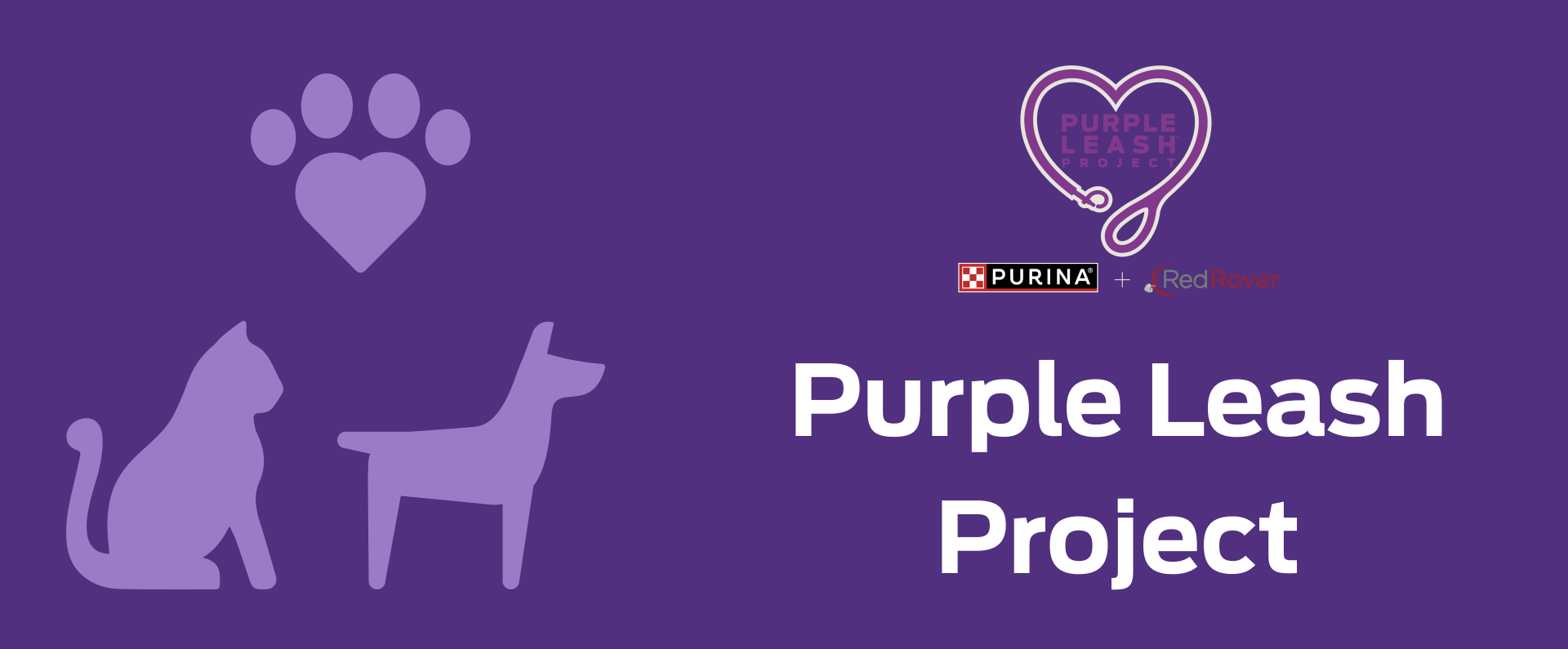 Industry Topics
Purple Leash Project
Nearly a decade ago, a Nestlé Purina associate read about the difficult decision many abuse survivors with pets are forced to make: stay with an abuser or leave a beloved pet behind. It seemed unfair that pets, who may be the only source of unconditional love and support for a survivor, weren't considered. So, we decided to help.
Every October, our associates from near and far come together for National Domestic Violence Awareness month. Through various partnerships and initiatives, our goal is to support domestic abuse survivors and their pets as they safely escape dangerous living conditions and arrange new ones. We call this our Purple Leash Project.
In the U.S., 1 in 3 women and 1 in 4 men will experience some form of domestic abuse in their lifetime ranging from physical violence to emotional or financial abuse. For survivors with pets, leaving an abuser can be made more complex and daunting due to a lack of resources to support them through pet-friendly shelters and housing. In fact, currently, only 15% of domestic violence shelters in the United States allow pets, and almost half of abuse survivors (about 48%) will delay leaving an abuser if they can't take their pet with them into a shelter.
Our partnership with RedRover helped us to grant seven domestic violence shelters the ability to make pet-friendly renovations. Through this effort, we continue to live out our belief that pets and people are better together. But we know that there is still more work to be done. In addition, Purina and RedRover have provided more than $1.2 million through 46 grants to domestic violence shelters and service providers across the country, providing thousands of safe nights for survivors and their pets.
As our CEO, Nina Leigh Krueger, shares, "There simply aren't enough places to go with their pet, forcing many survivors to stay with an abuser rather than leave their pet behind. Our goal is to build a future where no one escaping abuse has to make that choice, because as pet lovers, we know that the bond we share with our pets is special and worth protecting."
Throughout the month of October, our St. Louis headquarters campus and factories across the U.S. participate in various activities and awareness campaigns to keep this initiative top of mind and offer survivors our support.
Here are a few ways that you can get involved to support domestic abuse survivors through our Purple Leash Project:
Wear purple for #PurpleThursday
Volunteer at a Domestic Violence shelter in your community.
Donate to the cause, which can help alleviate veterinary costs, pet supply needs, and more. For every donation made in October 2023 to RedRover in support of the Purple Leash Project, Purina will match 100% of donations up to $200,000.
To learn more about our Purple Leash Project initiatives click here.
If you know someone who is being abused and is ready to leave with their pet, they can find information on pet-friendly shelters in their area at www.DomesticShelters.org. In addition, for help, call the Domestic Violence Hotline 24/7 at 1-800-799-7233 (SAFE) or Visit TheHotline.org