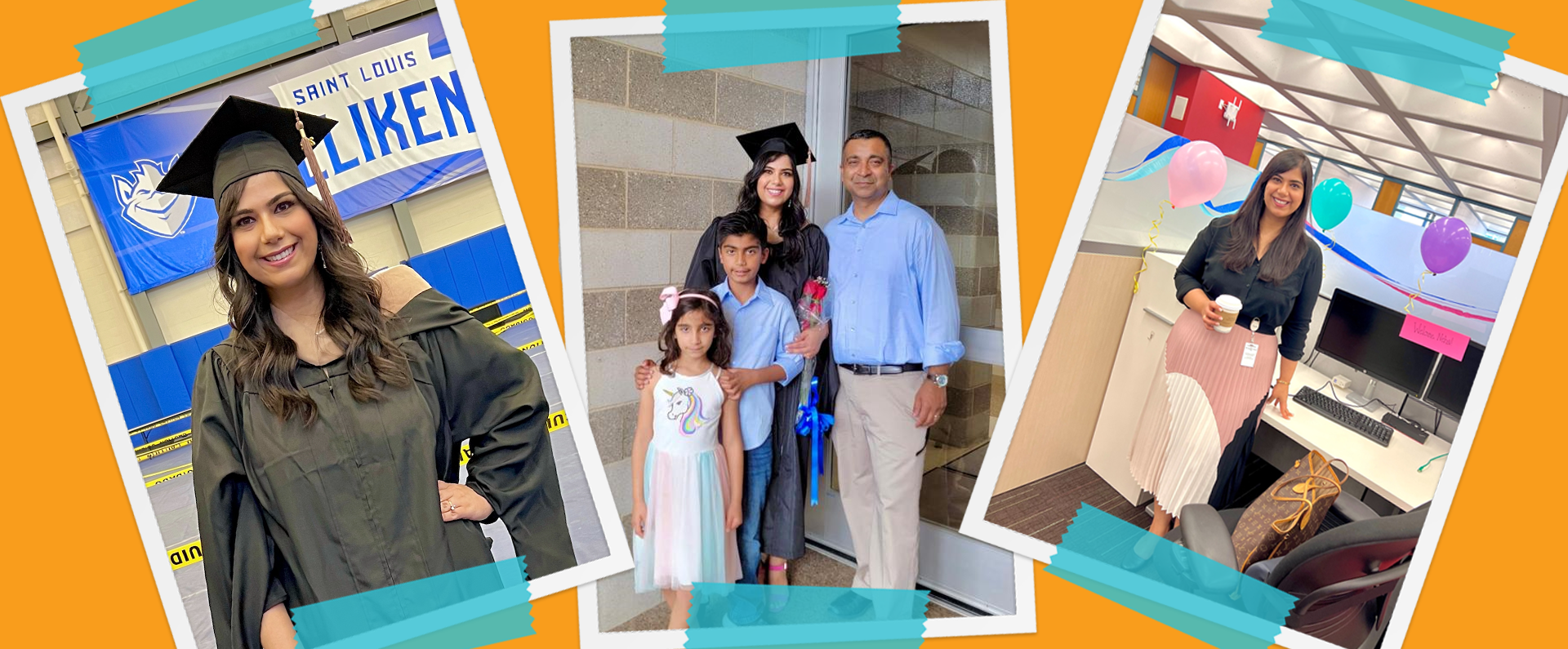 Our People
From Practicum Student to New Hire: Meet Neha
What is your Name and Title?
Neha, Specialist, Program Management
What are your primary responsibilities in your current role?
I lead and manage multiple critical projects and programs across business units in our North American market. I am responsible for developing end-to-end project plans and associated tools to ensure on-time, in-scope delivery of products to meet our financial objectives. In this work, I get to lead cross-functional teams of both internal and external partners. We are responsible for communications to key stakeholders and work together to develop and implement strategies to establish new processes or improve existing processes within our marketing function.
Tell me a little about your MBA program:
I completed a One-Year MBA program at Chaifetz School of Business at Saint Louis University. While the primary focus of the program was Data Analytics, we studied everything from Economics and Digital Marketing to Finance and Supply Chain Management. We had several opportunities to apply what we were learning in the form of business simulation games, presentations, projects, and finally our practicum.
What projects did you work on as part of your practicum?
My practicum was at Nestlé Purina with the eCommerce team. We evaluated the consumer journey of online shopping using eye-tracking technology, analyzed functional and explorational methods of buyers to increase product purchases, and developed recommendations for the optimal landing page experience based on our analysis. The practicum provided me with meaningful insight into the Pet Care industry. More importantly, I gained valuable experience which I could leverage on later while applying for a job in Nestlé Purina.
What first attracted you to a professional career at Purina?
One of the first things I noticed at Purina was how affable and welcoming all the people who worked here were. Second, I knew I could learn a lot from the sheer magnitude of the company in the Pet Care industry. Last, I appreciated how open Purina was to change—in the form of fresh ideas, technology, trends etc.
What were some of the first days of your career at Purina like?
My first few days in Purina were everything I had dreamed of, and then some. My entire team took it upon themselves to make me feel comfortable and informed. The orientation was well organized and helped me seamlessly transition into my new role.
What advice would you give someone considering applying for a role at Purina?
Network as much as you can! It's a great way to find your way to Purina and within it. Present your authentic self—it is highly valued here!
Outside of work, what are you passionate about?
I love traveling and thankfully, I share that passion with my husband. I also enjoy cooking and baking, especially for my kids. Last, writing is something close to my heart. Whether it's poetry, blogs, letters, articles or just penning my thoughts, I love writing as a medium of expression!