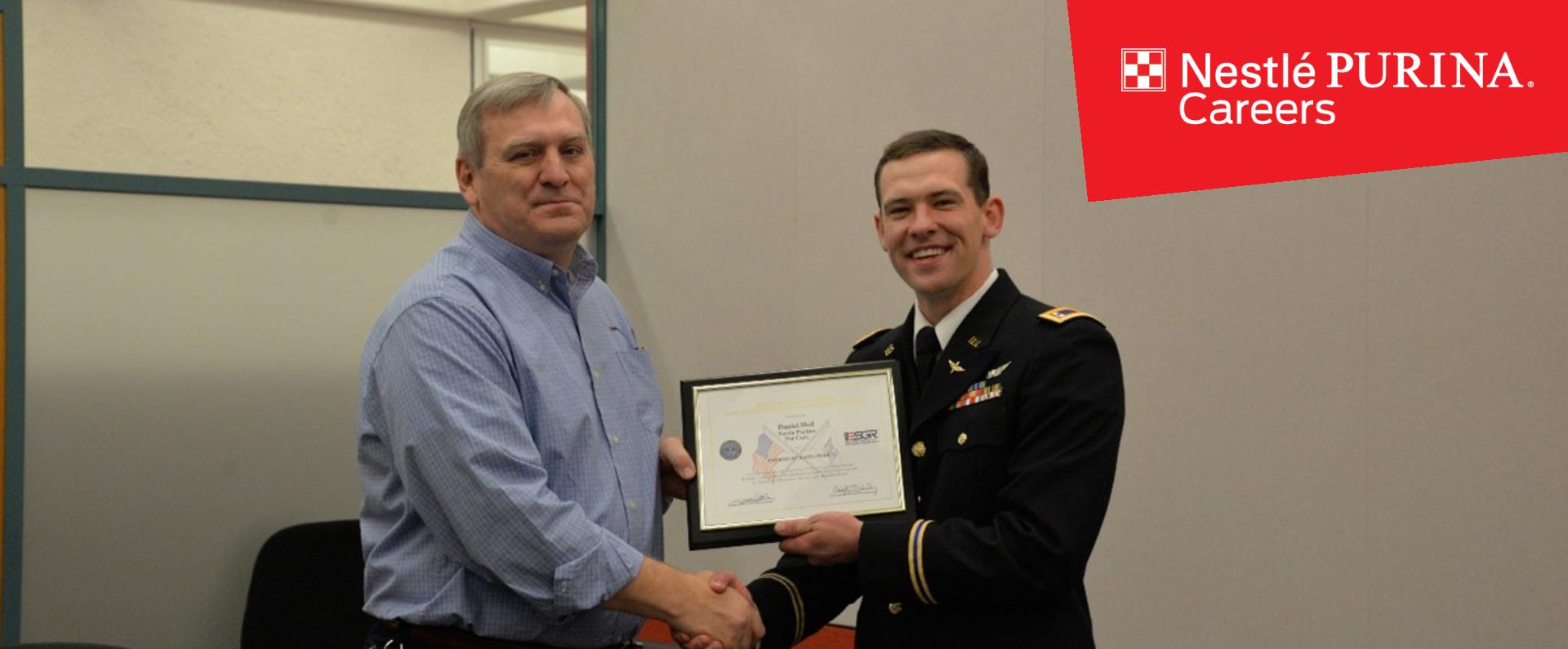 Our People
Bloomfield Associate Surprised and Honored with Patriot Award
Dan, Warehouse Group Manager in Bloomfield, MO, thought he was attending a typical meeting but when he stepped into a conference room—he got the surprise of a lifetime. He was greeted by a handful of coworkers and awarded the Employer Support of The Guard and Reserve (ESGR) Patriot Award by fellow coworker, Kolby.
"I nominated Dan for this award because of his tremendous support of my National Guard obligations," says Kolby, Logistics Assistant. "Dan worked to help foster my success during annual trainings, drills, and the Warrant Officer Leadership Course."
In 2012, Kolby joined the National Guard as a 15G-Aircraft structural repair mechanic and later became a 15T-UH-60 Black Hawk Crew Chief. After graduation from Western Illinois University with a degree in Supply Chain Management, Kolby accepted the position of Supply Chain Trainee at the Bloomfield, Missouri, plant with Dan as his manager. "He has since become the best mentor I could ask for," Kolby says.
While in Bloomfield, Kolby says Dan provided an abundance of support when he had to attend drills and trainings over the course of several weekends. When Kolby was selected to go to the Warrant Officer Candidate School—a six-week, intense transition course where enlisted members of the military become officers and technical leaders in their fields, Kolby says Dan was more excited than he was. "He enabled me to feel prideful about my opportunity and honored to work for a company that allows such absences, which can seem inconvenient to some."
"It fits Purina's values really well," Dan adds. "The leadership training and the path Kolby is on is particularly important because he's gaining leadership training as a Warrant Officer, and he's leading people to make good and tough decisions."
Dan also understands Kolby's commitment because he, too, has served his country. He served in the Army for four years and was an Army Captain in Desert Storm, where he was awarded the Bronze Star Medal. "It's a sense of community and a support for those who are trying to do a dual career," Dan says. "As an employer, you have to support those activities with not only words, but with actions." The Patriot Award reflects the efforts an individual makes to support citizen warriors, including flexible schedules, time off prior to and after deployment, caring for families, and granting leaves of absence if needed.
"It is leaders like Dan who make it possible to have active National Guard and Reserve members in our organization," Kolby says. "Dan is a great advocate for soldiers, and it was truly a pleasure learning from him and being a part of this one-of-a-kind individual's team."
Dan's efforts are a prime example of Nestlé's support of the military in action. Our commitment to the military extends to our benefits as well. As an associate, you will have access to personalized support to assist you and your family through various transitions and life decisions. Whether it's health or wellbeing related, we have an array of benefits and programs for you to choose from.