Industry Topics
Safety In Our Factories—A Core Value
Our factory environment is fast paced and high volume to meet our customer demands. Our workplace includes warehousing operations, processing and packaging equipment, forklift operations, and other potential hazards. Our commitment to safety is our Core Value and is non-negotiable which creates a workplace that ensures the safest processes, products, and practices in the industry.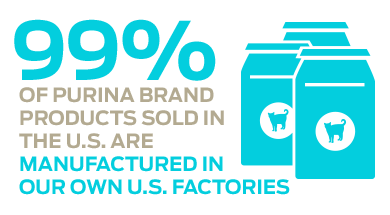 Nestlé Purina associates are the source of our competitive advantage through their skills, capabilities, creativity, and experience. As an organization, we're recognized as one of the best in the pet care industry for outstanding safety performance. All of our 22 factory locations are certified to the globally recognized ISO 45001 Safety Management standard. Our safety performance for OSHA Recordable Injury Rate is well below the industry average. Employee safety is managed with a strong focus on continuous improvement shown by our 30% Recordable Injury Rate reduction over the last three years.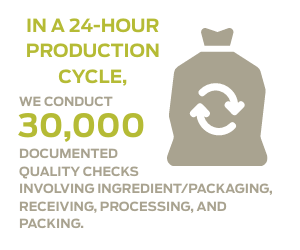 Our Quality Assurance practices are based off of a series of standards and processes designed to ensure our products are the safest, highest in quality, and consistent in its properties. We strive to exceed FDA, USDA, and AAFCO standards so customers can feed their pets with the best nutrition on the market. We have a robust team devoted to elevating our ability to track every single ingredient in our food, and monitor all of the processes that take our products from the factory to the shelf.