Industry Topics
Safety In Our Factories—#1 Priority
In the factory environment, there are several moving parts. From the front line all the way to the back end, heavy machinery is always in use, associates continuously multi-task, and processes move quickly. But our commitment to safety takes precedence in order to create a workplace that ensures the safest processes, products, and practices in the industry.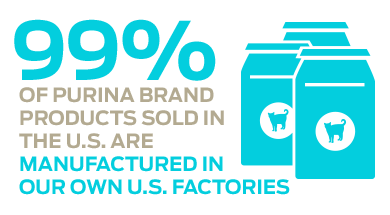 Nestlé Purina associates are the source of our competitive advantage through their skills, capabilities, creativity, and experience. As an organization, we're recognized as one of the best in the pet care industry for outstanding safety performance. In 2012, Purina maintained a Recordable Injury and Lost Time Injury Frequency Rate at least 70 percent below the industry average, and 15 of our factories went the entire year with no lost time injuries. Our factory in Clinton, IA just celebrated eight safe years without a single lost time incident – that's five million safe hours! 
Our Quality Assurance practices are based off of a series of standards and processes designed to ensure our products are the safest, highest in quality, and consistent in its properties. We strive to exceed FDA, USDA, and AAFCO standards so customers can feed their pets with the best nutrition on the market. We have a robust team devoted to elevating our ability to track every single ingredient in our food, and monitor all of the processes that take our products from the factory to the shelf.