Recruitment Marketing (Digital Brand Management) at Nestlé Purina: Meet Justine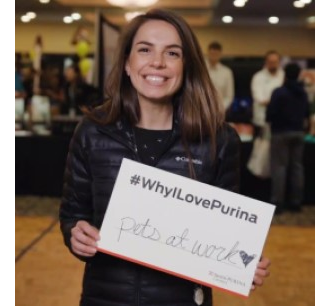 We're growing by leaps and bounds.
Five years (and) a younger self ago, I was an intern on what was a small but mighty team, with two other specialists. Today we have more than doubled our size, and we're still growing, with current openings for others who want to help us make great things happen and are looking to further build our team to make great things happen.
If you've worked in employment branding/recruitment marketing for a while, you're probably wondering why you should apply to Purina. I get it! Recruitment Marketing is a growing field with lots of opportunities abound, and you probably know the skinny on what makes each company most attractive.  Interested to see behind our curtain? Here is some insight you might not find our careers website:
Let's start with the projects
Is your work interesting? It's such a fundamental piece of whether you find your job fulfilling. Nestlé Purina is the pet care division of the world's largest food and beverage company, Nestlé. My team supports the pet care business in the US through a centralized recruiting and recruitment marketing model based in St. Louis, MO.  This means we support every business function. One day you might be strategizing how to market to a corporate pilot, and the next how to support a mass-hiring events for factories across the U.S. (hello, job stability). 
Personally, my favorite projects I've worked on overlap with our technology and include collaboration with our US and global partners across Nestlé. In my time here, we've built multiple websites and implemented CRMs, Marketing Automation Platforms, Consumer Data Platforms, and a new ATS. You'll be given the opportunity to build credibility and make an impact on projects at a global scale. We believe in trying new things, taking appropriate risks, and scaling our learnings where we can across the globe.
Benefits are hard NOT to brag on
As an employer, Nestlé Purina has been there for me through many life stages. We offer extensive health support and medical options, as well as a 401K match and Tuition Reimbursement. In my time here, I have also leveraged our Pet Adoption assistance, some of our mental health resources (like access to apps that support stress management), our onsite Gym, and health care facilities. And best yet, I've leveraged our gender-neutral parent support policy to enjoy 26 weeks at home following the birth of our first child. You can learn more about our benefits here.
Our culture is incomparable
As a remote associate, it's easy to feel some disconnect from culture, but our team has really supported my whole self. That could be stepping out of the office early to attend an event or starting and ending my day early to enable me to spend as much time as possible with my family. I've never had to think twice around scheduling a doctor's appointment, taking a chunk of time off work for personal travel, or flexing on a Friday after a long week. Work-life balance here is exactly that. Feel enabled to get your work done and take care of your home life as you see fit.
A meaningful career
In several ways I've grown up at Purina. The longer I've been here, the more important it is to me to work at a socially responsible company. Purina is about doing things right. As a pet owner, the mission centric approach to bettering the lives of pets keeps me confident that my pets are receiving the best nutrition possible. We prioritize safety for consumers and our associates. We take care of the environment. We're committed to Diversity, Equity, and Inclusion and making an impact in the communities where we work.
I invite you to reach out to me on LinkedIn if you're interested in learning more about our Recruitment Marketing Team, and the openings we have available.