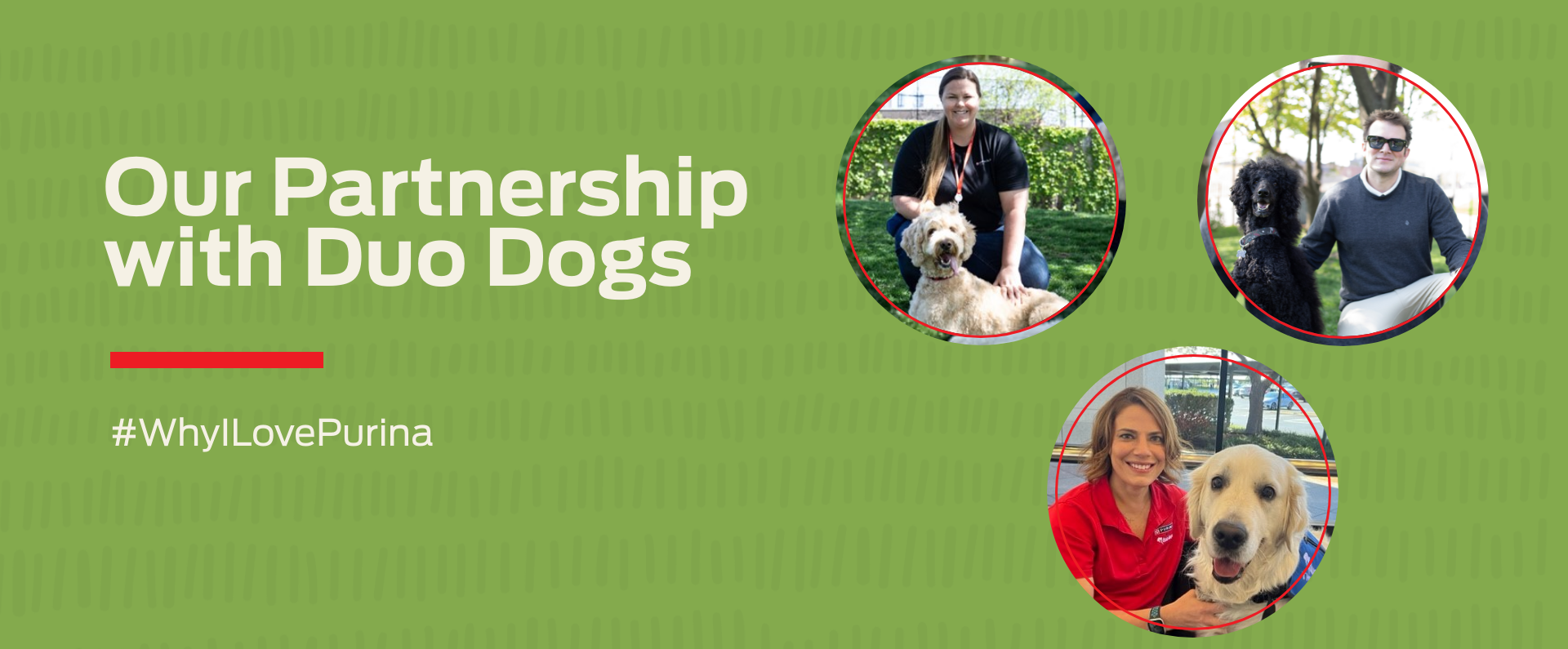 Industry Topics
Our Partnership with Duo Dogs
Our partnership with Duo Dogs, Inc has proved to be nothing short of inspiring. Nestlé Purina was among the first to sponsor the first-ever service dog litter partnership, in which a group of our own associates took on the task of raising ten future service dogs whose mission it is to provide hope, healing, independence, and courage to people with disabilities, or to serve as facility dogs in hospitals, schools, child advocacy centers, or courtrooms.
In addition, the Duo Touch Therapy Program with certified Purina employees and their own personal pets has taken off with close to 5,000 face-to-face and face-to-nose interactions. Purina employee therapy dog teams, aimed at creating a positive relationship for individuals and families struggling with mental and physical health challenges, further illustrates that pets and people are better together. This is why we continue to be at the forefront of cultivating these community relationships.  
Connecting with our communities gives us a broader sense of purpose and belonging. Through our ongoing support of the communities where we live and work, we learn how we, as an organization, can come together to help the greater good.  
"At Purina, we believe that pets and people are better together, and it's humbling to watch our associates go above and beyond to find inspiring new ways to bring the power of pets to those in need," said Kim, Director of Community Affairs "These ten puppies will go on to touch hundreds of thousands of individuals throughout their lives. This is a significant step as we continue working to find ways to put pets at the forefront of how we address mental health." 
Hear from a few of our associates like, Catye, John Paul, and Julie, on their experience with the program:  
Cayte, Talent Acquisition Associate:  
"Duo Dogs was an incredible experience for me and Sophie to go through. This experience allowed us to develop an unbreakable bond and learn skills that will assist us in providing people with a healing touch in their time of need. I knew Sophie was special; she has a way of sensing when people need comfort. This program allowed us to develop skills while going into different environments that may need her the most, like hospitals and nursing homes. Through the program she learned how to properly greet a variety of individuals that may vary in age and ability. She learned how to adapt to different environments and still be able to show her love and compassion in multiple settings. It has been incredible to see the impact she has made on so many people with just a single touch. I am so thankful to work at Nestlé Purina where Sophie and I have had the opportunity to be part of this amazing program. It was life changing and will provide a lasting impact for many years to come." 
John Paul, Senior Manager Brand Marketing: 
"Touch Therapy training was truly a profound experience because it helped my poodle, Liberace, and I to become more compassionate, kind, and confident individuals. We are so excited to use this experience to help spark joy in others who need it the most." 
Julie, Senior Manager Clinical Trial Management:  
"Participating in the Duo Dog Touch Therapy program has been amazing! I learned so much about myself, my dog Graham, and what we were capable of as a team. It really strengthened our bond to go through the training process. 
Graham has taken well to being a Touch Therapy dog—his parents are therapy dogs, and he took to the challenge readily. He loves the attention he gets when we are out at an event, and it's so gratifying to see how happy people are to interact with him. When we volunteered at colleges during finals week, it was wonderful to watch the stress literally fade away as students snuggled with him. I am so grateful to have been given this opportunity to share my dog with the community. Because of Duo Dogs and Purina, Graham has been able to demonstrate that people and pets are better together!" 
Learn more about our partnership with Duo Dogs, Inc and check out our work within our local communities and partners.