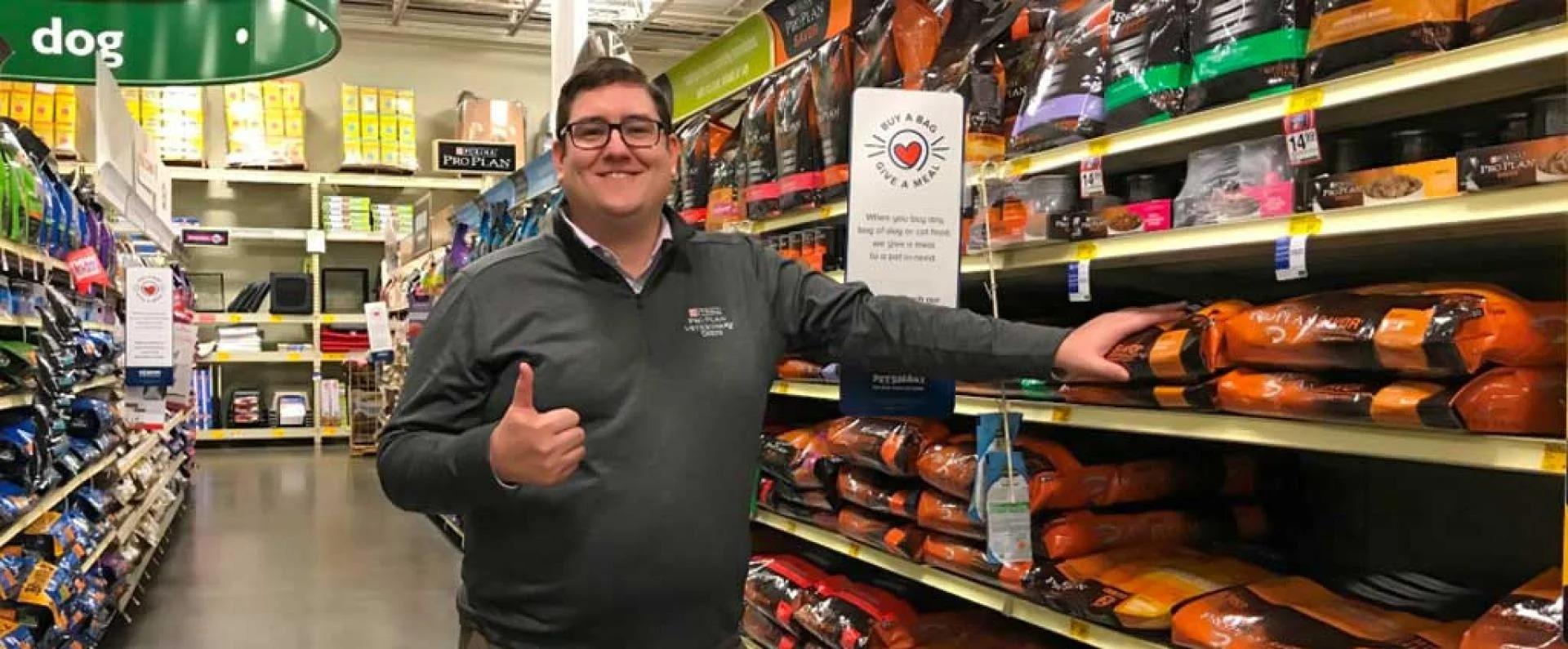 Our People
Why I Left Somewhere Else to Join Purina's Vet Sales Team
What ultimately sold you on joining Purina as a Region Manager? 
The process and people involved during the recruiting and interviewing process. I knew it was the right company to work for. 
What did you do prior to Purina and in what part of the country? 
I was a National Account Manger for another consumer packaged goods company. I worked with wholesale and retail partners throughout the U.S.
What are your primary responsibilities day-to-day in your current role? 
My main responsibility is to coach and develop our Purina Veterinary Consultants (these are territory managers working within our veterinary channel) to drive performance of our Purina Pro Plan® Veterinary Diets line. 
Tell us about your team – what do you enjoy most about managing various territory managers on the vet sales side of the business? 
I am fortunate to work with a great group of individuals. We all come from varying, extensive sales backgrounds and we bring our skills together to accomplish big goals. 
Tell us about an interesting project you've recently completed or are currently working on. 
I am currently working on the interview team, and have been fortunate to be involved in the talent acquisition process of hiring new sales associates into the company. Working as a team to hire and develop the best talent for Nestlé Purina is very rewarding. 
Best piece of advice you would share with one of your direct reports – what would it be? 
Believe that you can do anything you desire within the company. The resources and training provided by Nestlé Purina are invaluable, and the company knows how important development is to form strong leaders. 
Best piece of advice you would share with someone considering applying for a role on our Sales Team – what would it be? 
Know this is a great time to be on the Veterinary Sales Team. We continue to grow and have the programs and people to succeed in our channel – seize the opportunity. 
A common corporate buzzword these days is 'work-life balance' – what does that mean to you in relationship to your role? 
Work-life balance is very important and a key focus for Nestlé Purina and my team. The focus the company places on this creates a very comfortable and engaging place to work. 
You have two dogs – what are their names and how would you best describe them (in two words)? 
Rocky – wise and lazy 
Humphry – wild and crazy 
Working in sales means you can be out and about or on the road often. Where is your favorite place to travel for work? And for pleasure? 
Chicago is one of my favorite places to visit. As long as it is not in the winter, it is a lovely city with great people and places to visit. For pleasure, I try to plan one trip abroad each year. This year I spent some time in Spain. 
Follow Sean to show you a day in the life as a Territory Manager on either retail or veterinary side of our business.