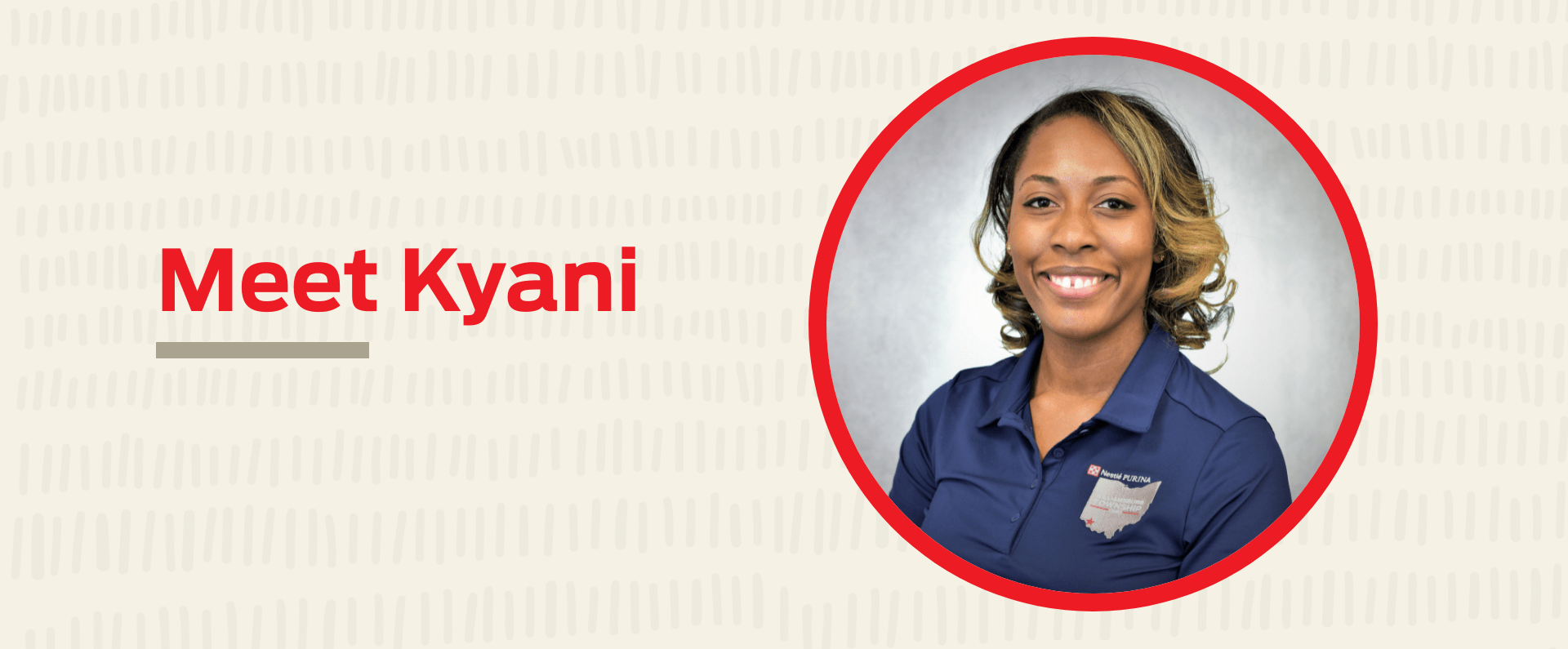 Kyani began her career journey with us as a supply chain intern, where she supported the Walmart Customer Facing team. She initially joined the company to learn about our organization and because she was drawn to our culture. She noted that we're a "huge company [Purina]" but it proved to "still have one big family feeling." One of the most gratifying parts of her internship was the ability to contribute to something larger than herself and how rewarding that felt. From her internship experience, where Kyani learned how the historical spikes and lifts impacted the point of sales for our products, to her current position as Manager, Materials Management, she has gained knowledge about our end-to-end processes and operations. Continue reading to learn about Kyani, her career journey, and what has aided her success.
Tell us about your career journey with Nestlé Purina.
I began my career as an intern on the Walmart Customer Facing team as a Supply Chain Intern. I remained on the team until I entered the trainee program in Davenport, Iowa. I began as a Supply Chain Trainee in this program, and I was tasked with learning the end-to-end of inbound to shipping finished product to our customers. I completed the manufacturing portion of the trainee program and began the corporate portion of the program. I was able to learn the end-to-end portion of the corporate business which ranged from receiving customer orders to brand management. Once I completed the corporate rotation, I moved into the Procurement department as a Procurement Specialist, where I was tasked with managing bulk and liquid raw ingredients. I managed those categories but eventually transitioned into managing rigid plastics, resins, and packaging accessories for our Procurement Team. I remained a part of this team until I was promoted to the Materials Manager for our new startup in Williamsburg Township, OH.
What has aided your success in your path from Supply Chain Intern to Manager, Materials Management?
Learning the end-to-end process has fully equipped me with understanding the language in the manufacturing world and in the corporate environment. Building strong and valuable relationships has provided me the ability to be successful in this role. These relationships have allowed me to have the benefit of knowing key contacts for support, but also actively allows me to share contacts with others to support them, as well. My advice to future interns and new associates at Nestlé Purina is to branch out and be a go getter. Reach out to everyone and try to network. Remember that the sky is the limit.
What, if any, obstacles or challenges have you had to overcome?
One key challenge that I have experienced is being the only person that looks like me on my team or in meetings. To combat this challenge, I have identified mentors to talk through different scenarios. I have also started to coach other minorities on similar challenges that they face.
Outside of your role, what else are you involved in at Nestlé Purina?
I am involved in the Women Leaders Forum (WLF) and the Management Development Associate (MDA) Program recruitment team. WLF is about growing, developing, and supporting the women who grow our business. The MDA program is designed to elevate the skillset of recent graduates and accelerate their career to a management-level position through a tailored, rotational program that covers end-to-end operations throughout the business.
If you're interested in learning more about our open Procurement and Supply Chain openings, visit our careers website.