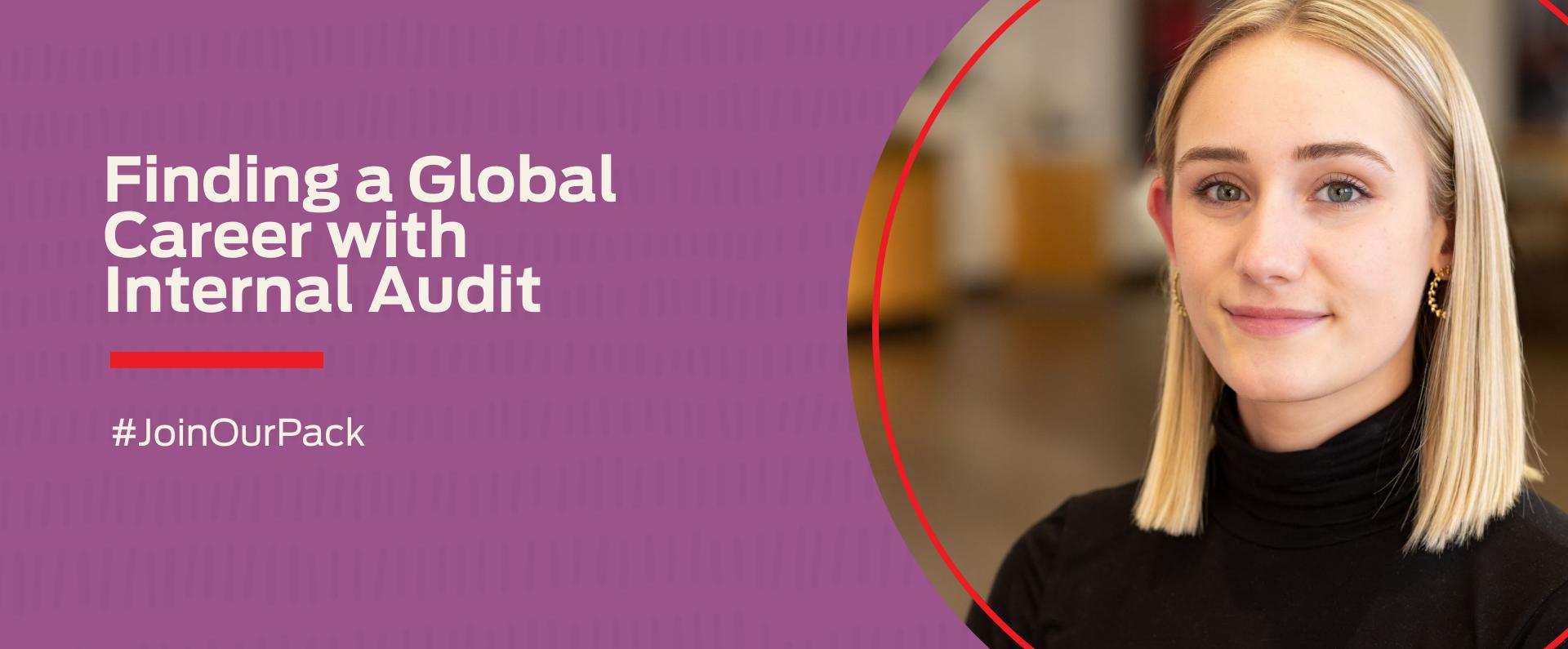 Our People
Finding a Global Career with Internal Audit
Meet Margot, a Team Lead within Nestlé's Internal Audit Department, and the global career she enjoys year-after-year with us.
Can you explain a little bit about your role within the Nestlé organization?
Internal Audit is a global team with markets around the world. I'm based with the U.S. team in St. Louis, but I conduct audits with my coworkers around the world. So far, I've joined missions in Switzerland, South Africa, and Paris. In Nestlé Internal Audit, we cover all areas of Nestlé's operations. This includes auditing on-site at factories, distribution centers, and head offices to ensure that internal controls are in place and to provide recommendations on how the company might be able to operate more efficiently. We typically work in teams of four or five auditors which helps to build a dynamic and collaborative working environment. We dive deep into new topics on every mission. For example, one day I could be looking at quality in a DiGiorno pizza factory, and the next could be finance and sales controls in the headquarters in St. Louis, Missouri.
Tell me about your career progression at Nestlé.
I joined Internal Audit as a team member, where I was able to train with more senior members while testing Audit chapters first-hand. About a year into my job, I was promoted to Senior Auditor, where I began taking on more responsibility. At this point, I had the chance to deep dive into unique areas of our business and testing chapters where my future career aspirations might lie. I joined the Sustainability Expert Network, a group of internal auditors from different markets, globally, who work together with experts in the company to develop training and audit materials to better assist the team during our reviews. This is something I did not have much experience in but was incredibly curious about. I was promoted to a Team Lead, and am responsible for leading a team of Auditors, whether helping new team members understand concepts they are learning for the first time or guiding more senior members on where key risk areas might be. I also have more opportunities to directly interact and manage the stakeholders of the audit, usually the financial controllers of the factory or business unit which we are reviewing. This has been a great opportunity to gain experience and insight from experts in the Nestlé organization.
What makes Nestlé Internal Audit unique?
Nestlé's Internal Audit Department is unique because we aren't necessarily designed to be career auditors. Internal Auditors at Nestlé typically stay in the department for about four years, after which many will move internally within the company toward a new area of interest. The skills learned can help advance your career and open additional opportunities should you choose to do so. What makes this job even better is the people I work with. We travel about 60% of the year, and we get the chance to build a strong team dynamic inside and outside of work. The people I work with are incredibly intelligent and hardworking, and there is something special about being able to audit on a mission all week together, travel to a safari in South Africa together for the weekend, and then come back Monday morning ready to work again.
What is your favorite part of the job?
My favorite part of the job is that no day is the same. I love to learn and I'm really grateful that I get to gain such a breadth of experience through Audit. Not only am I able to audit various business functions within Nestlé's organization like pet food, coffee, and food, but also our global markets. One audit lasts three to six weeks, and then you move on to a new audit where you can learn another area of our business. While you are learning a bit of everything, you begin to build your own expertise and a great network of other global Auditors to rely on and who come to rely on you.
Where is the coolest place you have traveled to with Nestlé for an audit?
The coolest place I was able to go was South Africa. I spent six weeks in Johannesburg for a review of the Eastern and Southern African region and then spent four weeks in a small town called Mossel Bay where Nestlé has a dairy and nutrition factory. The team ziplined over the ocean, saw dolphins jumping, and celebrated the end of the audit at a restaurant that sat on the cliffs. I almost convinced the team to go great white shark cage diving, but I'll just have to go back to Mossel Bay myself to check that one off the list.
How have you felt supported by your team and Nestlé?
The team and the management continue to be very supportive at Nestlé. The team dynamic is incredibly strong. When I came to Nestlé, I was completely uncertain about Audit. However, the senior team members and leads were hands on and helped to build me into a confident and inquisitive Auditor. I hope I continue that with the new Auditors that join the team. My manager has helped develop my professional goals both within and outside of Audit. We have weekly meetings even while I'm travelling in the field to chat not only about the audit, but also how I'm feeling about the job and areas where I might need additional support professionally and personally. I've found that some of my best support networks are Auditors who went through all the stages of the job that I have, and who are able to offer an external perspective and continued guidance.