10 Reasons Purina Hires Veterans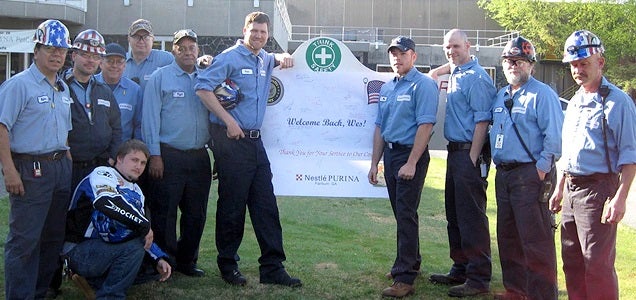 Hiring veterans is more than an act of patriotism. It's a strategic business decision that you can count on reaping big benefits. Organizations know that leadership abilities and strong sense of mission are characteristics that can transfer seamlessly from the military to civilian life. But military experience is proving to develop more than just dedication and discipline in veterans. It's proving to develop successful climbers of the corporate ladder and long-lasting leaders.
So, why does Purina hire veterans?
1. Adaptability and Resiliency 
The ability to overcome hardships and trauma, achieve developmental competencies and excel in the face of harsh environments define resiliency. Veterans know and understand that if they are not adaptable or resilient while serving, they may put their lives and the lives of others at risk. They tend to exhibit high levels of resilient behavior, which research has shown translates very positively into exemplary traits in the civilian workforce. 
 
2. Composure 
Veterans have experienced situations that most Americans will never truly understand or experience themselves. Under the threat of physical harm and in a myriad of other stressful moments, veterans have learned by experience and through thorough training to remain calm and composed so they can continue to stay focused. 
 
3. Integrity 
Veterans know exactly what it means to do an honest day's work and to do everything they do by adhering to moral and ethical principles — and trusting those around them to do the same. 
 
4. Relentless Attention to Detail 
Veterans are trained to keep a watchful eye on the bigger picture, while simultaneously maintaining a very keen sense of detail. They know the small things are what make the big differences in everyday life. 
 
5. Accelerated Learning Curve 
Those in the military have to take in extreme amounts of information very rapidly. They are forced to possess unique skills at such a young age, which are often transferrable to civilian job opportunities. 
 
6. Respect for Procedures 
Following policy could mean saving a life in the military — or saving a project in the corporate world. Veterans have a unique perspective on the value of accountability and respecting the rules. They see firsthand how policies and procedures lead to safety, productivity and stability. 
 
7. Ultimate Team Players 
Genuine teamwork for veterans grows out of being responsible for each other. One of the leadership tenets taught in the military is that to become a good leader, you must first be a good follower. Rising through the ranks is a rite of passage, allowing leaders to develop their own management styles based on observation of their teammates and superiors. Being a good team player in the military is about setting the right example for others to follow. 
 
8. Work Well Under Pressure 
It is engrained early on in military training the importance of dedication and perseverance. Veterans are outstanding at accomplishing what must be done on time and despite incredible stress or adversity. 
 
9. Advanced Technical Training 
Typically, military experience exposes individuals to highly advanced technology and technology training at an accelerated rate, relative to non-military peers. This type of exposure enhances the ability to link technology-based solutions to organizational challenges. 
 
10. Leadership 
Veterans understand practical ways to manage people and assignments in even the most trying circumstances. They are trained to lead by example and through effective direction, delegation, motivation and inspiration. 
"You often hear that leadership is the single most critical quality that comes from military experience," HR Manager (Flagstaff, AZ factory), Jeff S., said. "While it may be true, what I have learned through my military experience is that it requires its members to, ultimately, be adaptable and flexible to best achieve its range of missions. As an employee at Nestlé Purina, I have been asked to work in many capacities and on many teams with different roles and duties for each. This skill set has been the most useful in my career so far." 
Are you a veteran, or know a veteran, ready to transition?