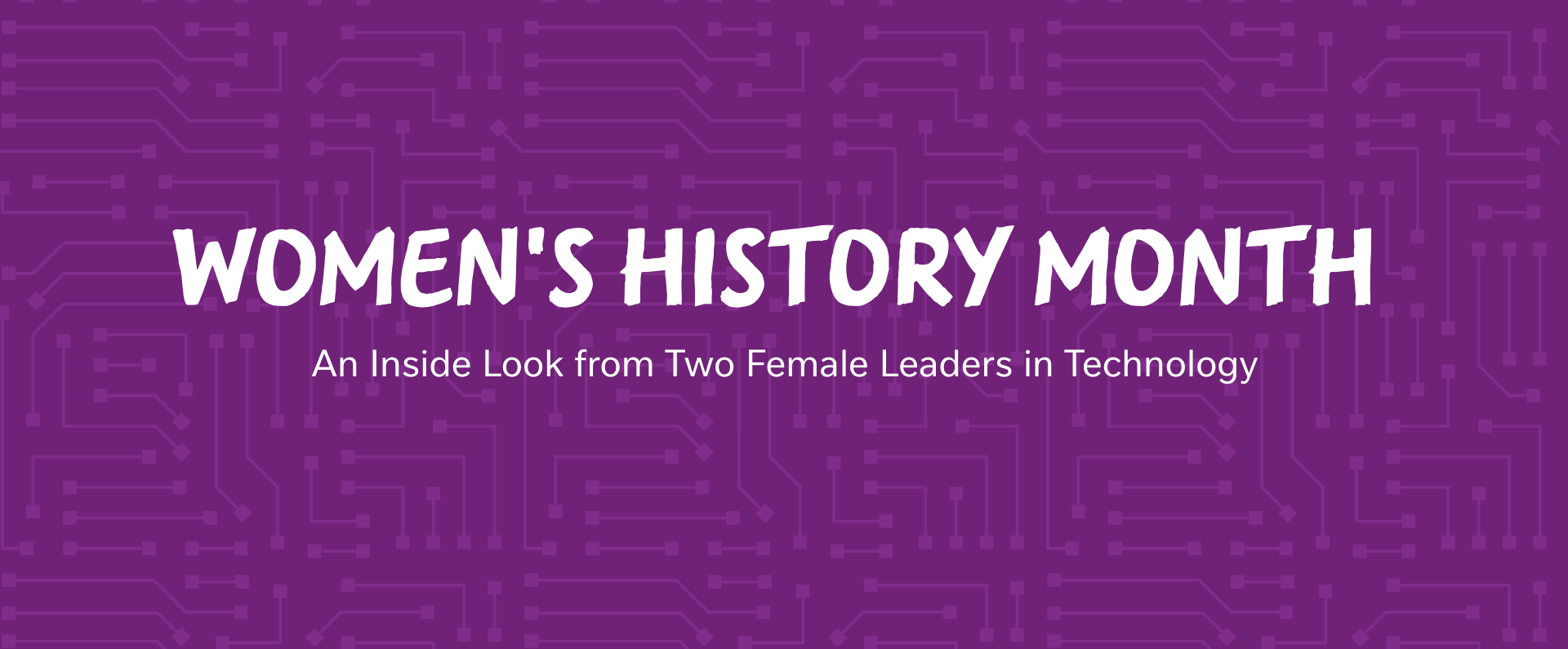 Our People
Women's History Month - An Inside Look from Two Female Leaders in Technology
Nestlé IT is not only dedicated to technology, but we're also dedicated to the female leaders in technology that pilot our strategies and make impactful decisions every day. Female leaders in technology not only lead, but they coach, empower, and energize other women to continue spearheading technology through authentic ways of working. Hear from two of our female leaders in technology who share their experiences and passions, and how they've continued to remain innovative within technology.
Meet Ashley 
My name is Ashley, and I am the Partner Productivity Management Lead for Warehousing Globally within the IT Supply Chain department. I primarily work with our external partners, driving business value through the partner's productivity, while ensuring their service aligns to the overall sourcing strategy. I focus on building relationships with our partners so we can work together, challenging the existing processes and models to create new innovative solutions that better fit our IT products and business needs and capabilities. 
Meet Paulina 
My name is Paulina, and I am a Project Manager on the Marketing, Sales, and eBusiness team in North America. My role as a Project Manager is to manage IT projects, and ensure the outcome delivers value to our business. Lately, I have been working within the commercial planning space and exploring IT product management which helps to deliver more benefits to our receivers. 
Tell me about your career journey with Nestlé IT. How has Nestlé IT supported you throughout your career? 
Ashley: I started my career at Nestlé in 2015 as a Project Manager in Applications for Material Handling. It was actually my initial jump into IT from having worked on the Operations and Corporate side of Supply Chain-Manufacturing/Warehousing most of my career. My first manager helped kick off my Nestlé career in the right direction. He was a wonderful cheerleader, supported me, and challenged me through high visibility projects. Throughout my career at Nestlé, I have been fortunate to report to, and work with, great leaders in our organization. They have mentored, coached, and gave me a platform. I've embraced that to lead conversations about Women in Tech or other topics that will improve IT Warehousing/Supply Chain. I am grateful for these leaders who have taken an active role in my career and empowered me to own my career. I hope that I can continue to pay it forward. 
Paulina: I began my career journey with Nestlé IT as a Jr. Analyst supporting field sales teams. It was a great segue from my previous role in sales, as I was able to apply my experience in understanding business needs while supporting field sales solutions. Continuing as a Solutions Specialist, I supported field sales teams by collaborating with team members across North America and worked on different initiatives to deliver value to the business. 
Recently, IT has undergone transformation and product management has remained a main driver. I knew I wanted to explore this concept further, and to understand how product management would change the way we would achieve our objectives. With incredible support of my leadership team, this led to my most recent opportunity: helping drive product management initiatives as part of a mission at our Barcelona Hub. The experience has certainly made an impact on me and my career goals. 
I can't say enough about the support I've received throughout my career here at Nestlé. I've had fantastic managers that support my aspirations and challenge me to stretch myself into something new. The culture of learning and growth is evident–we have many resources available to help us own our professional development. It's certainly been a great journey thus far! 
Employee Resource Groups promote inclusion, which also creates a more welcoming environment where our teams can show up authentically each day. Why is it important to you to Champion Women in Tech? What is your primary role as a Champion? 
Ashley: It is important for me to be a champion for Women in Tech because I want to show younger generations that this career path is a real possibility. And really, IT Supply Chain is a career option for everyone. Each person has the opportunity to enjoy learning and improving the end-to-end process through technology. My primary role as a Champion is to facilitate a safe space for women in tech and our allies to engage in conversation and share ideas around technology, exciting changes, and the challenges we face. I want to make sure I am supporting their goals and shining a light on the extraordinary women and allies in our organization. 
Paulina: I'm a Champion for Women in Tech because I believe that every individual, regardless of background, gender, or identity, offers a unique perspective to a team—and that's valuable in achieving our goals. IT has traditionally been a male dominated field, so having an employee resource group (ERG) like Women in Tech helps us learn from one each other's experiences and grow stronger as a team. My primary role as a Champion is to amplify the voices and ideas of the women in tech community. I want to support events as they relate to women in tech so that we are all encouraged to bring our most authentic selves to work. 
Women are making an impact in technology every day, and March is dedicated to celebrating Women's History. Who is someone you admire for the impact they made? 
Ashley: There are so many wonderful women to celebrate in March and year-round. A female leader who I am currently watching is Mary Barra, a female CEO. She recently made a bold statement announcing the company's sustainability goals, and I am excited to watch her lead this commitment into the electric and digital age. The technology her team has been able to implement has been developed through key relationships and partnerships with other big tech companies, and it is tagged as the best in the industry by analysts. She is an electrical engineer, so I must support my fellow women engineers! 
Paulina: Quite honestly, I'm very inspired by many of the women in our organization, and what they've achieved in their careers in tech. In fact, my co-champion for Women in Tech and I are excited to organize panel and spotlight sessions this year to showcase the awesome things that the women at Nestlé IT do. However, I want to take this opportunity to thank my manager, Linda, for her impact on our organization as the previous Women in Tech sponsor, and for her impact as a coach and leader. 
If you could give advice to females who are breaking into the tech space or coming back, what would you tell them? 
Ashley: Technology is fast paced and always changing, so it is a great environment if you are curious and a lifelong learner. My advice is to be adaptable and curious, and to not be afraid to step outside your comfort zone. Don't accept the answer, "This is how we have always done it." 
Paulina: My advice to a female breaking into the tech space would be to reach out to others. Find a mentor, connect with a colleague from a different team, join professional networks or resource groups, you name it, get involved! You might learn something new, or you might find new interests. Then, try to say yes to new opportunities as you are able—you never know to what that might lead to! 
Community Service is a part of many of us at Nestlé IT, what ways do you choose to serve your community? 
Ashley: I am very active in the St. Louis community. I am Vice President of the Young Professionals Board for the Little Bit Foundation. We provide wrap around services (school supplies, meals, health/wellness checks, vision care, clothes, shoes, and other essentials) for the children in our area. I have served on our Music Trivia and Laura's 5k Run committees. I've volunteered in schools and warehouses, and I've hosted supply drives. Beginning in 2020, some of our normal activities were disrupted by the pandemic. Along with my colleagues on the Young Professionals Board, we launched a new Golf Tournament that we could do safely. It was a challenge, but we were able to hit our fundraising goals while providing a safe way to engage the supporters. Recently, I've also had the opportunity to serve on the Foundation's Board of Directors Technology committee, which has been a nice overlap with my professional skills and abilities. 
Paulina: I volunteer for events and contribute to fundraisers driven by LGBTQ+ nonprofit organizations. It's amazing to think of the progress we've been a part of in just this past decade, so with that I am inspired to give back to my community as much as I can. 
What are your passions outside of work? 
Ashley: I've recently taken up boxing. It feels more like a form of meditation to me. You have to block out the distractions and focus on the present. With Nestlé IT's flexible work arrangements I am able to block my calendar in the early mornings multiple times per week to take that time for me. By blocking it off on my calendar, it forces me to make time for it. 
Paulina: Outside of work, I am passionate about traveling and learning about other places and cultures. In addition to my temporary assignment in Barcelona, I've relocated several times for new roles while working at Nestlé, so I try to take full advantage of immersing myself in someplace new. 
If you're interested in learning more about our IT opportunities with Nestlé IT, visit our careers page or join our Talent Network to stay up to date on our latest open positions.