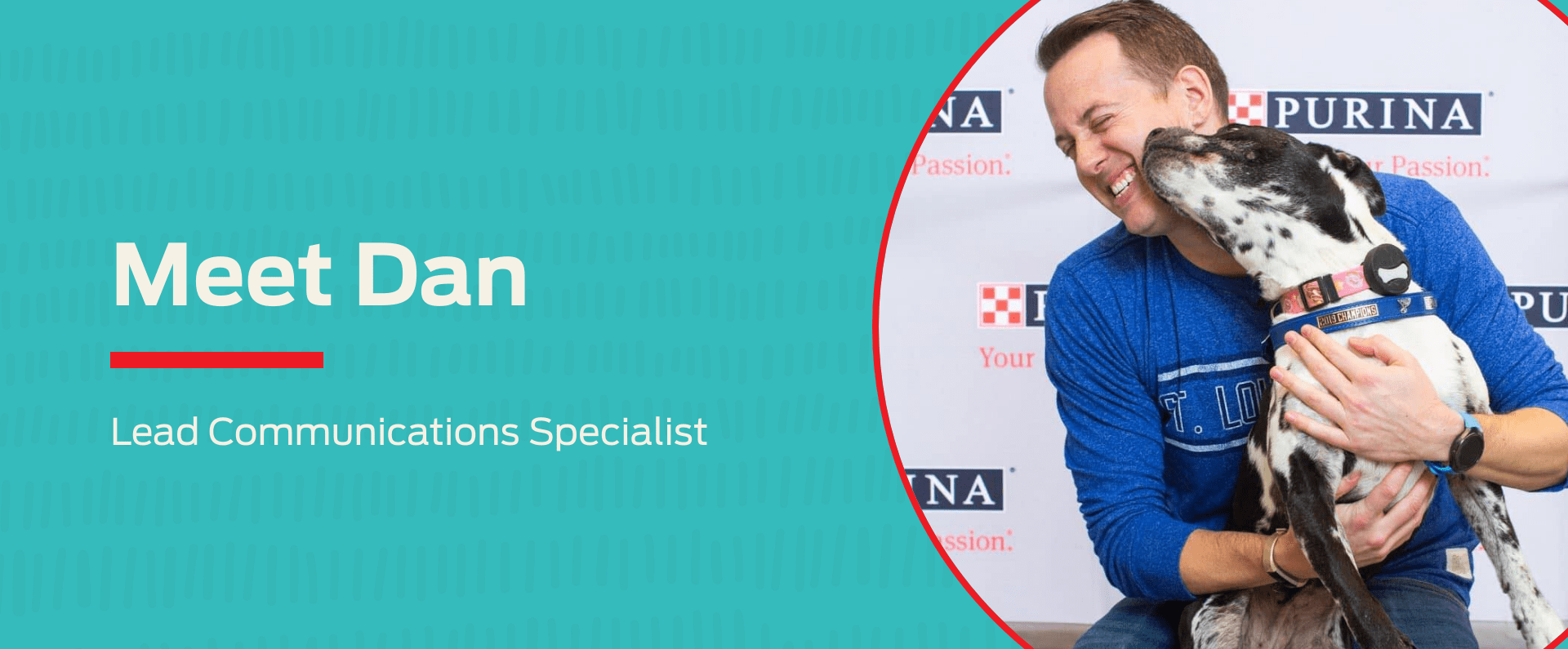 Our People
Meet Dan | Community Affairs
Meet Dan – Lead Communications Specialist, Community Affairs
Tell us about your career path so far at Nestlé Purina.  
 
I started at Nestlé Purina working in Checkmark—our in-house creative agency. I was part of the Marketing Public Relations team for approximately 6 years. After that, I moved over to the Community Affairs team, which is part of the Corporate Public Relations team, and I've been here for 6 plus years. 
What made you decide to join Nestlé Purina?  What did you do prior?  
 
Before joining Nestlé Purina, I worked for a very small creative/PR agency in their Public Relations department. I joined Nestlé Purina because I was excited at the prospect of working for a well-known organization, with industry-leading brands. Plus, I was eager for the career development and networking opportunities I would be afforded working for one of the most prominent companies in St. Louis. 
What are your primary responsibilities in your current role?  
 
We handle the organization's nonprofit relationships and funding decisions, engaging and motivating our associates to give back, and we run point on numerous events in our headquarters' market of St. Louis. 
What unique skills make someone successful in the position?  
 
In this position, you must have the ability to communicate across various teams and groups, internally and externally, and make decisions in a timely fashion. There are many moving pieces in our department, and we must make sure the right people have visibility to make decisions that will impact countless pets and people. 
What are some of the projects you are currently working on that support Nestlé Needs You?  
 
We support several youth leadership/employment projects—two of the more prominent initiatives include STL Youth Jobs, which helps find employment opportunities for youth in the City of St. Louis who haven't had the opportunity to enter the workforce, and the other is FOCUS St. Louis, a leadership program that recruits high-performing youth from across the metro area and helps them develop critical thinking skills while exposing them to various businesses across the city. 
Why are these projects important to St. Louis? Why are they important to Nestlé Purina?  
 
These projects help provide opportunities to the youth of the city that wouldn't be present otherwise. Many of the youth who participate in STL Youth Jobs just need a chance to get on-the-job experience, but don't know where to start or how to get a job. So, the experience and mentorship this program provides goes a long way into helping these youth set a solid foundation for their future career paths. For us, it's an opportunity to connect with our community members and do our part in ensuring the success of the next generation of St. Louisans.
What advice would you give someone considering applying for a role at Nestlé Purina?  
 
I get approached all the time about applying for positions here and my advice is always the same—if you're interested, apply and do it as quickly as possible. Many positions receive a surplus of applications quickly, so make sure you throw your hat in the ring if you see something that catches your eye, and you meet the basic qualifications of the role. It really is a great company to work for and the secret is out. But don't get discouraged if you don't get the job the first time around— I've applied for several internal positions throughout my tenure at Purina and didn't get them. I kept growing my skills, so I was prepared for my next role. Our website also features advice from recruiters and other resources about our hiring process to help you succeed. 
Outside of work, what are you passionate about?  
I'm passionate about St. Louis, which is why I'm involved on several boards that are focused on giving back to communities and groups local to my hometown, or on progressing and highlighting the positives that our city has to offer.  
Interested in joining our pack? Join our Talent Network to be alerted about the most relevant job opportunities matching your skill set.