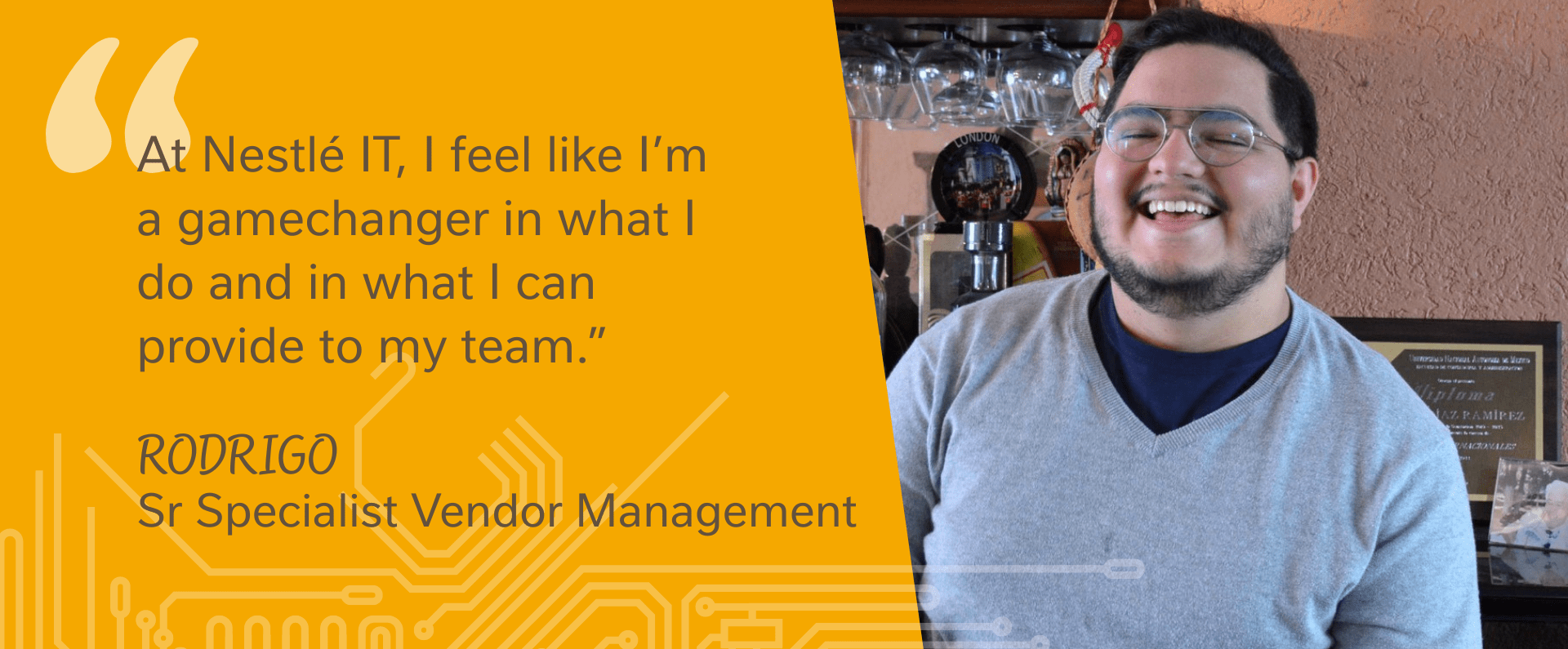 Our People
New Year, New Career Opportunity with Nestlé IT
Meet Rodrigo – Sr. Specialist, IT Vendor Management
Tell us about yourself.
My name is Rodrigo, and I was born, raised, and currently live in Mexico City, Mexico. A few things about me: I love American football, I'm an avid coffee drinker, I play saxophone, and I have two dogs, Pepper and Choco. I have worked at Nestlé IT for six months as an IT Vendor Management Senior Specialist.
Explain your professional background. What did you do prior to joining Nestlé IT?
I received my bachelor's degree in mathematics from Universidad Nacional Autónoma de México, and my career background is in vendor management and insurance business. I didn't want to be boxed into my degree though, so I built this "Frankenstein" sort-of-curriculum to learn more about mathematics and other sciences simultaneously. By doing this, I feel like I fulfilled this data-driven and data-motivated persona that's helped me get to where I am today.
How did you learn about your current career opportunity with Nestlé IT?
I wasn't looking for a new opportunity because I was still pretty new to my then-current job. However, a recruiter reached out to me about this vendor and data-related position, and I thought it sounded interesting. I was comfortable in my previous job in that the work was enjoyable, but I wasn't feeling particularly challenged. After my interviews went well and I had some time to reflect, I ended up accepting the offer with Nestlé IT. Here, I feel like I'm a gamechanger in what I do and in what I can provide to my team.
What do you do in your role as a Sr. Specialist, IT Vendor Management?
It's a world of its own. I work with a variety of stakeholders and external providers to track contracts, see what projects they're involved in, and provide insight to other stakeholder behavior. Something else I'm passionate about in my role is working with data. Data must be understandable, and we can use visuals to make this happen―to tell the story of that data and why it matters. I have developed KPIs for our team and created a couple of dashboards to do just that, and soon the dashboard will produce forecasts of observed behaviors in the market. The opportunity to brainstorm, try new solutions, and challenge the status quo are a few reasons why I enjoy coming to work each day.
What was the transition and onboarding process like for you?
The transition from my insurance and vendor management background to this role was challenging. Being in a data-focused role means learning quickly because data doesn't stop, but also understanding how the team is trying to measure the available data and what is most important or relevant to our goals. The onboarding process was truly unique. I learned a lot of information and felt really welcomed. My direct manager recently asked me how I feel after being in my role for six months, and I told him it feels more like six years with how welcoming the team has been and how much I'm directly contributing to my team already.
Was there a particular benefit, or reason, that made you join us?
When I found out the position I was interviewing for was with Nestlé, I recognized how significant this opportunity was. Nestlé is a large, well-known company with great values, and I decided it was worth taking a chance. When I learned about the Nestlé IT Mexico City Hub, the prospect of growth and development was even more apparent and enticing.
What three words would you use to describe Nestlé IT?
Focused, innovative, and resilient. We must focus on where we're trying to go and what we're trying to achieve, but we can't forget where we have come from. Then, if we know where we come from and where we want to go, we can answer the question of what we need to change and why. That's where innovation comes into play. Finally, we need to be resilient to change and be able to provide best in-class solutions.
What's a technology you hope will exist in the future?
I'd like to see a device, or devices, that help people with disabilities or diseases lead a fulfilling and dignified life. The role that technology already plays in medicine and science is amazing, and there's more advancements and innovations to come.