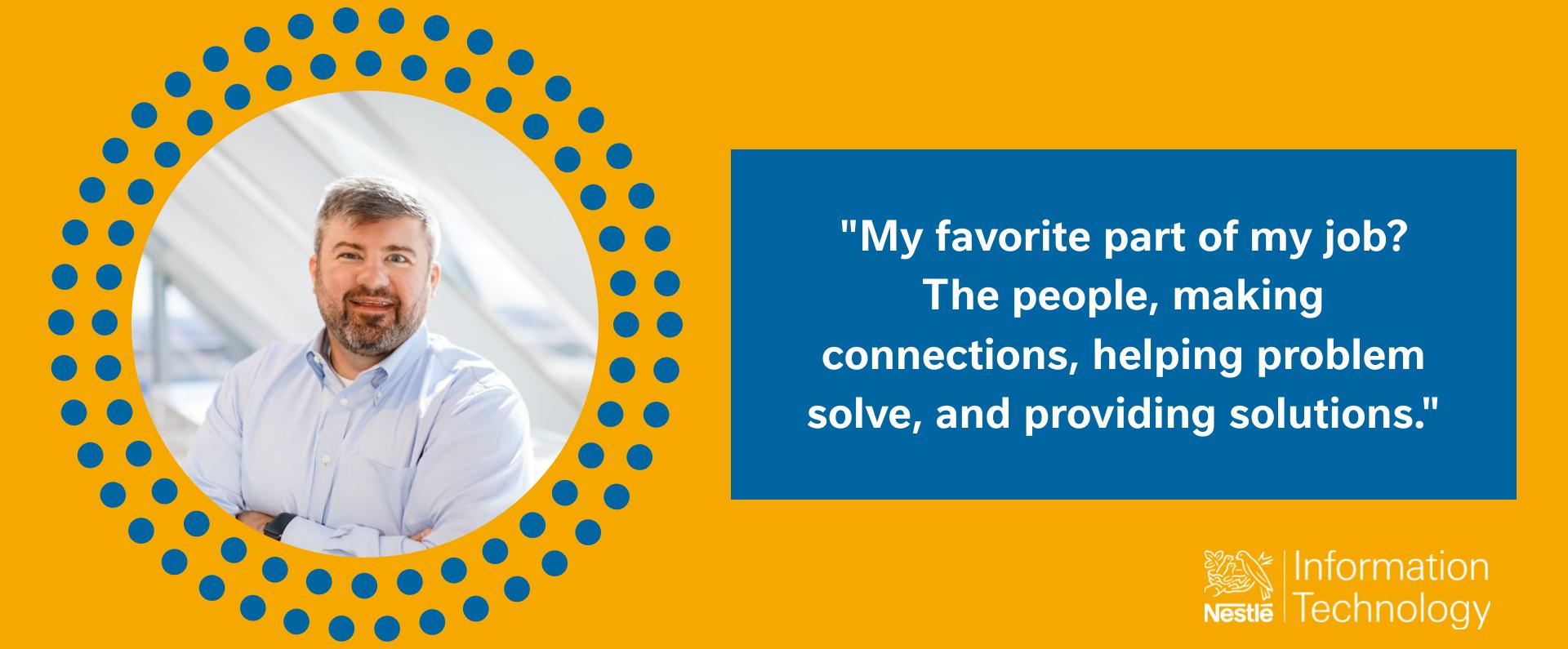 Our People
How a Leap of Faith Brought Greg from Sales and Retail to Nestlé IT
Meet Greg—IT Functional Relationship Manager for Marketing and Sales
What has been your career path leading up to working at Nestlé IT?
I've had multiple roles of increasing responsibility across sales and account management, analytics, broker management, and retail execution within Nestlé Waters and Nestlé USA over the past 21 years. I began my Nestlé journey as a Category Management Intern for Nestlé Waters, and then started full time after graduating from Boston College with a degree in Marketing, with roles such as Retail Sales Rep, Senior Field Sales Manager, Sales Productivity Manager, and Sales Execution Manager. Three years ago, I transitioned to Nestlé USA, where I worked as a Retail Execution Manager supporting the beverage division and then a Category Account Manager selling Coffee-Mate, Toll House, Nesquik, San Pellegrino, and other brands to several supermarket chains. I've been in my current role, Manager FRM, with Nestlé IT for four months.
How did you learn about your current career opportunity with Nestlé IT?
I was in my Account Manager role for several years when a former colleague, who is in IT, told me about some of the exciting innovative digital marketing technology projects she was working on. With my managers approval, I applied for a different position at Nestlé IT within my friend's group, but it ended up being too technical of a role for me. However, my current manager was part of the interview process and when my current role opened, she reached out and said this role was a great match for my skillset, so I took a leap of faith. I had never worked in IT before and I had no formal technical training, but I wanted to learn something new, and I trusted their recommendation that the role would be a good fit. This role leverages my previous experience, further develops my skillset, and I'm continuing to solidify and build my network within Nestlé.
How was the transition between roles?
I was anxious, but more excited. The training and onboarding that I completed was robust. It provided a good introduction to IT and early connections with coworkers. Our Chief Information Office (CIO), Sabine Roduit, also joined my Accelerate Training session, and I thought that was something truly special. I'm naturally very curious and eager to continue growing, so I felt very fortunate for the opportunity to jump operating companies. It's been an eye-opening experience to see just how intricate and involved roles are at Nestlé IT.
What do you do in your current role?
I partner with key business stakeholders from the Gerber marketing and sales departments to enable business growth. Success in my role is to maximize business opportunities through technology solutions (think topics like better insights, saving time, and faster communication). I also educate the business on new technology to understand if it's something they want to explore. I am working on several exciting projects now: new eCommerce sales dashboards, transitioning our medical sample order process to a third-party fulfillment company, and multiple Consumer Engagement Service (call center) technology upgrades and enhancements.
What has aided your success so far?
Experience and exposure. My experience across two Nestlé operating companies and various roles in Sales, Retail, and Analytics enables me to not only relate to the stakeholders I work with, but also clearly articulate what solutions IT can provide and what technologies to employ. My exposure to collaborate with cross functional teams in previous roles has been beneficial in shaping my overall perspective. Exposure to various resources like conferences, trainings, blogs, and newsletters that those in my network utilize has also been beneficial. Don't be afraid to be curious!
Are there any myths about IT that you want to dispel?
Yes! IT is MORE than just fixing tech issues, whereas IT truly strives to be a strategic partner to the business. There are so many layers and functions to Nestlé IT. We have IT roles that work alongside sales, marketing, finance, supply chain, legal, manufacturing, and more. Nestlé IT is a tremendous organization that continually adapts to all internal and external factors and should be recognized and celebrated more often.
What's your favorite part about your job?
So far, it's been the people; making connections, helping problem solve, and providing solutions. I love bringing stakeholders together to find a solution, and then seeing the implementation of that solution.
Outside of your role, what else are you involved in at Nestlé IT?
I was born with a congenital birth deficiency; I am a right above knee amputee as well as have hearing loss in both ears. Despite my disabilities, I've been very fortunate to do so much in my life. I proudly co-lead LimITless, an IT disability Employee Resource Group (ERG) that focuses on making IT a more welcoming place for all individuals of all abilities. LimITless provides a forum to celebrate what makes us unique by inviting speakers to discuss topics like American Sign Language or demystifying Tourette's syndrome as well as regular article posts to our internal Workplace page on subjects like digital accessibility or to celebrate various awareness weeks. I've had the privilege to speak on multiple Nestlé panels regarding disability and attend various DE&I conferences, both of which have allowed me to foster diversity, equity, & inclusion at Nestlé.
Is there a quote that motivates you?
"Every job is a portrait of the person who did it. Autograph your work with excellence." — American cartoonist and writer, Ted Key (1912-2008)
This quote was engraved on a gift I got from my high school basketball coach, and I think about this often, especially on difficult days.
Where do you see the IT/IS industry going in the future?
A few years back, John Chambers, then CEO of Cisco said, "Every company will become a technology company and change 'every industry'."
It's an exciting time to be in technology. Society and businesses will continue to look to technology to solve problems in the future, whether it's advanced data and analytics for forecasting and reporting, incorporating artificial intelligence solutions in supply chain, or accessibility solutions to enable their disabled workers or consumers they serve (maybe braille on packaging someday?). Technology touches everything within the company, and I'm grateful for the opportunity to not only contribute to it, but to learn about the different components, as well.
What advice would you give to someone looking to make a career change or pivot?
My first piece of advice is to strengthen your communication skills. A few key attributes that have supported me in my career pivot include being a strong communicator, listener, collaborator, and knowing how to ask questions. I would suggest to anyone who is looking for a new career, or switching careers, to establish strong relationships and build your network. I wouldn't be where I am if I didn't take the time to cultivate the relationships within my network, and for that I am fortunate.