A Look at a 47-Year Career at Purina – written by a retiree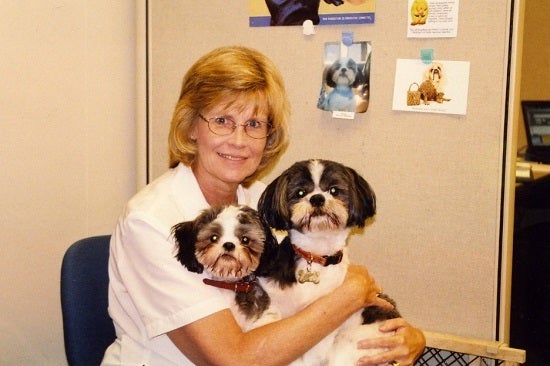 Forty-seven years ago during my senior year in high school, I applied for a job at Ralston Purina. I was so excited to find out that I made the cut for an interview! It was my first one, and I naturally wanted everything to be perfect. Upon arriving at The Square, my girlfriend and I went to the ladies room when she noticed that I had a spot of grease on the back of my skirt! I was totally mortified and was scrubbing it furiously with hand soap and water when, out of the corner of my eye, I saw a woman walk over to the sink and quietly exit. I know she heard the despair in my voice but said nothing as she exited. The stain was relentless – it didn't come out! Later, I met with Maggie Kiefer in the Personnel Department. She was a very pleasant woman and chatted with me about my skills and goals. At the conclusion of the one-hour interview, she told me not to worry about that grease spot on my skirt, and I would be hired based on my skills and vision for the future. Yes, Maggie was the lady that I saw out of the corner of my eye. We both laughed about that moment, and I knew then that Purina was special and was where I wanted to work!
I attended the Purina Secretarial Class in the Danforth Room on 6A that summer, which not only introduced me to the Purina way of accomplishing tasks, but afforded me the honor of meeting people who had many years of Company service. Forty-five years seemed like an eternity to me at that time.
Following the class, I was a floater and worked in the Employee Benefits Department. I was then assigned to help out in Central Research and in December 1969, I landed the full-time job as the Receptionist in the brand new Research North Building. It was in early 1970 that I got my first exposure to regulatory work - transcribing Dictaphone tapes for the Director of Corporate Regulatory Affairs. A regulatory crisis in 1972 had a positive outcome for me – the Director's current secretary was promoted because of her help during the crisis, and I was promoted to secretary. Seventeen years later when he retired, I was offered a secretarial job in the Consumer Products Group (today known as Technical Applications Group) working for the Director of Regulatory Affairs. From that point on, my job responsibilities grew, which opened the door to many, many new and challenging responsibilities and title changes with Ralston Purina, and later with Nestlé Purina. I owe my successes to caring bosses that believed in me and afforded me the opportunity to learn new things in order to better myself.
I've seen countless changes throughout the years that included the opening of the new Research North Building in 1969; the transition of the Tower Building becoming the "main building"; the remodeling of the E Building (which at one time was our rather rustic Supply Services Building) and the A Building (where the original café was on the fourth floor); and the construction of the C Building and the Child Development Center). A row of old buildings along Chouteau is now a beautifully landscaped Company parking lot. Our beautiful park, ponds, patios and the dog park adorn the campus where parking lots used to be. We are extremely lucky to have this beautiful campus with all of its amenities, and I hope that you take time to enjoy it every day.
Purina's goal has always been to work together to better the lives of our furry friends, and everyone still contributes to that goal today. Challenge yourself each day to do the best you can possibly do, take a step back occasionally to evaluate your tasks and the concept of continuous improvement, and approach challenges head-on with determination. Embrace both new opportunities and challenges. Work hard. Work smart. The results can exceed your dreams!  YOU are the Company's most important resource for success, and our furry friends depend on you.
I am extremely proud of my career and accomplishments, and Purina will always be a significant part of me. Purina is Family, and I will forever be grateful that Maggie saw someone other than a person who was fretting over a grease stain. Don't ever let a "grease stain" discourage you!
Best wishes to all of my Purina family!