Data Analytics at Nestlé Purina: Meet Evan from theHive
Tell us about your career path at Nestlé Purina?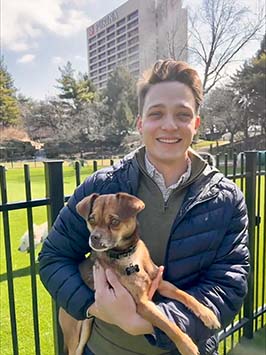 I started as a contract sourcer in Talent Acquisition. I primarily worked on staffing our factory roles. Every role that I had to fill; I was obsessed with learning the numbers—how many candidates will I need to reach out to? How many do we usually need to fill this role? How many phone calls and outreaches does this translate to? While exploring the answers to those questions, I started learning data science, building on analytics, and programming knowledge from my background. In addition to my primary responsibility as a Talent Sourcer, I worked on integrating data science and analytics into my role and completed a project regarding our utilization of predictive analytics to impact recruiting Key Performance Indicators, specifically time to fill open roles.
After that project, I accepted a role as a Sales Analyst for our Veterinary Sales division. I worked with Purina Veterinary Consultants (PVCs) and our corporate accounts to support their day-to-day sales activities with reporting, analytics, and PowerBI Dashboard development. I had the opportunity to work on business optimization processes—enabling our PVCs to spend more time building relationships with their clinics. Additionally, during this time, I was busy learning the python programming language for Data Science and trying to apply it in any way I could.
This led to my current role as a Junior Data Scientist in theHive, which is a Data and Analytics excellence group within Purina. My team is focused on developing Artificial Intelligence and Machine Learning models to help our various departments. What exactly does a Data Scientist do, though? – Think about anything you want to predict: Sales, whether something fits into group A or group B, or you want to minimize/maximize certain outcomes. That's what I do, using data and Machine Learning. Purina is heavily invested in the development of theHive, and it's an exciting place to be.
What unique skills make someone successful in your position?
While professional Data Scientists typically require knowledge of statistics and some sort of programming language for data science like R or python, I'd say the most important skill for Data Scientists is the ability to do data storytelling. Advances in Machine Learning and AI development have made a lot of the routine tasks of a Data Scientist far simpler, opening more time for us to tweak and adjust our models to fit the exact needs of the business user.
To do that, you need to be able to take complicated concepts and explain those to your end-user in a way that makes sense. You also need to be able to understand what your business users' needs are and translate those into a data problem. My sales and recruiting background have really come in handy there, and I think everyone in this space should focus on how to build and maintain relationships with business stakeholders.
What advice would you tell someone considering applying for a role at Nestlé Purina?
Think about your favorite part of your job or past jobs. Do some research and see what job titles there are and where those responsibilities are a major part of the job. Apply for those. Make sure to document all the projects you've done and achievements you've made in your past roles. Purina uses a behavioral process, and we really want to get to know you! Having your past experiences already written down helps a lot with this process.
Outside of work, what are you passionate about?
My wife and I love our little 10lb Chihuahua mix, Sam. We take him to the Purina-sponsored Bar  K dog bar often! I also enjoy traveling, I go to the West Coast quite a bit every year. Most recently, my wife and I went East, and we spent an entire week in New York. One highlight of our trip was seeing Hamilton on Broadway.